Try another search or check out these top posts
Labour costs in Australia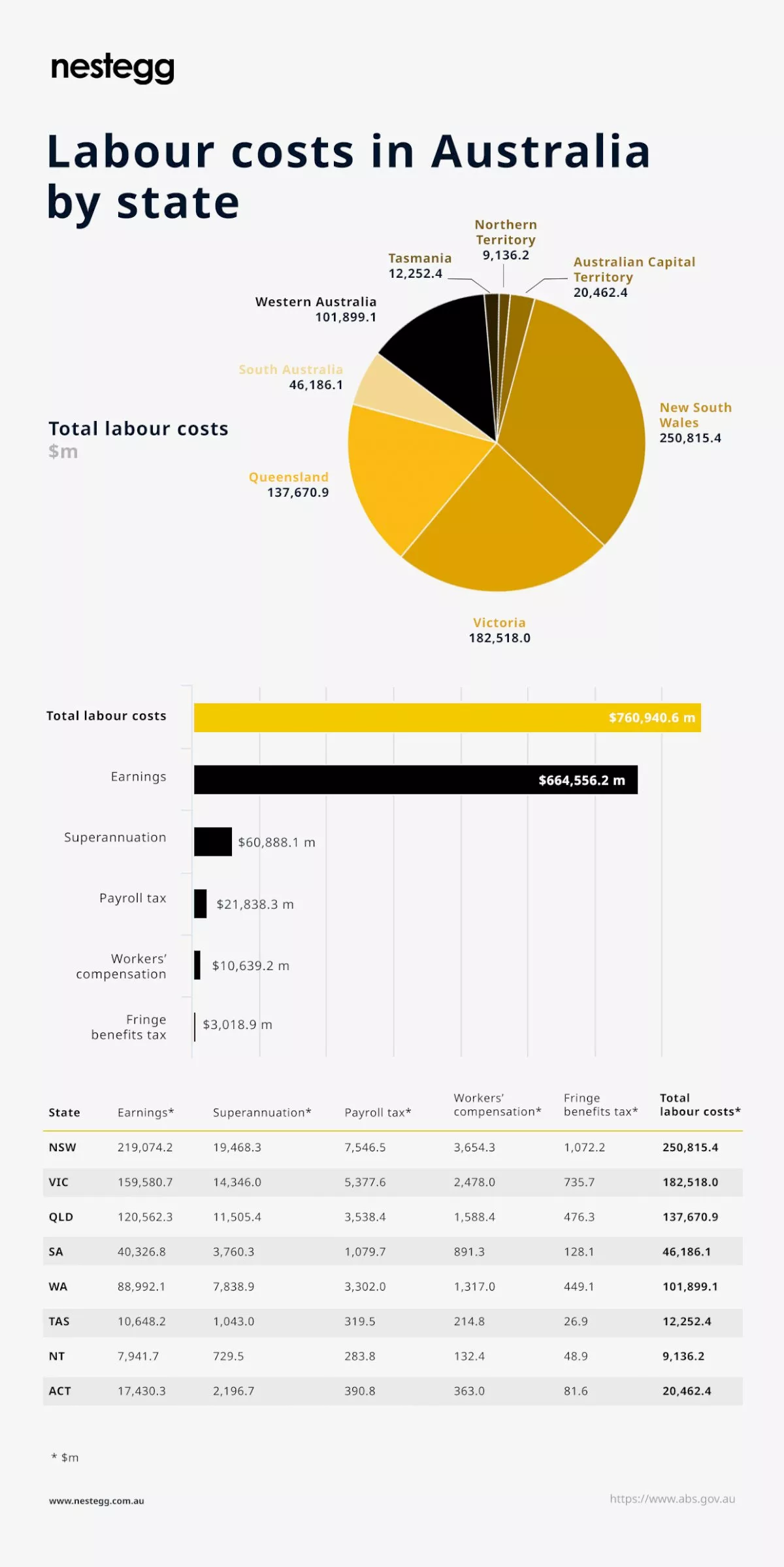 Click here to enlarge
Labour costs according to spending
The survey covering financial year 2015-16 showed that out of the $760.9 billion employer spending, $664.6 billion (87.3 per cent) were expedited as employee earnings – the biggest labour cost overall.
Superannuation contributions accounted for the second largest labour cost at $60.9 billion (8.0 per cent) followed by payroll tax at $21.8 billion (2.87 per cent).
The private sector accounted for the larger share of labor costs among all employers – with $591.4 billion (77.7 per cent) of total labour costs coming from private sector employers.
On the other hand, $168.6 billion (22.3 per cent) of labour costs came from the public sector employers.
Labour costs by state
Total labour cost in NSW ranked the highest among Australian states and territories – with NSW accounting for $250.8 billion.
NSW's earnings and superannuation costs were recorded at $219.1 billion and $19.5 billion, respectively.
Victoria's labour cost ranked second at $182.5 billion – with  $159.6 billion accounting for its employee earnings and $14.34 billion for superannuation.
Ranking third on the list, Queensland recorded a total of $137.7 billion – with earnings and superannuation accounting for $120.6 billion and $11.5 billion, respectively.
The Northern Territories recorded the lowest total labour cost overall at $9.1 billion, of which $7.9 billion went towards employee earnings, while $729.5 million was the total cost for super.
Forward this article to a friend. Follow us on Linkedin. Join us on Facebook. Find us on Twitter for the latest updates
About the author