Try another search or check out these top posts
Resources
Australians' weekly spending based on life stage
According to ABS data, Australian households spent $1,425 per week*.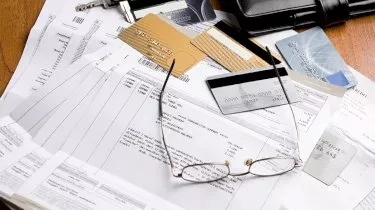 Australians' weekly spending based on life stage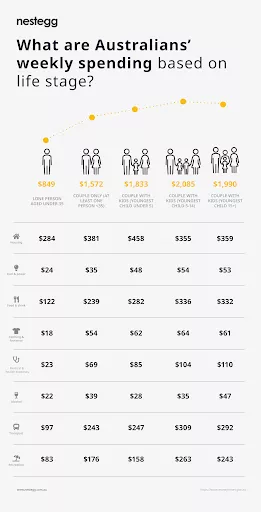 Click here to enlarge
On average, more than half of household expenses were spent on housing, food and beverage, and transportation.
Housing expenses – which include the costs for rent, mortgage and interest payments, insurance premiums, repairs and maintenance – accounted for 20 per cent of household weekly spending.
This is followed by food and non-alcoholic beverages at 17 per cent. Transport costs – which include vehicle purchase, repairs and maintenance expenses, as well as public transport costs – take up 15 per cent of the weekly household spending.
Weekly spending by life stage
Statistics likewise reveal how the household composition influences weekly spending.
For instance, the difference between the lowest and highest weekly spenders amounts to $1,236. A lone person under 35 years old spends $849 weekly, while couples with kids between five and 14 years old spend $2,085 weekly.
Lone persons spent $23 per week on medical and health, $97 on transport and $18 on clothing and footwear.
In comparison, couples with young kids spent $104 weekly on medical and health – 352.2 per cent more. Likewise, transport cost 201 per cent more for couples at $292 per week, while clothing and footwear expense increased to $61 per week – 238.89 per cent.
Despite this, housing was the second least expensive for couples with young kids, at $355 per week. Couples with kids under five years old outspent all other life stages in the housing category, spending as much as $458 per week.
But when it comes to alcohol expense, couples with kids 15 years old and above took the top spot with their $47 weekly alcohol spend. Likewise, this life stage recorded the highest medical and health expense spend at $110.
Explore nestegg to know more about spending.
*According to ABS data for the 12 months through to June 2016.
Forward this article to a friend. Follow us on Linkedin. Join us on Facebook. Find us on Twitter for the latest updates
About the author