Try another search or check out these top posts
What is a certificate of deposit?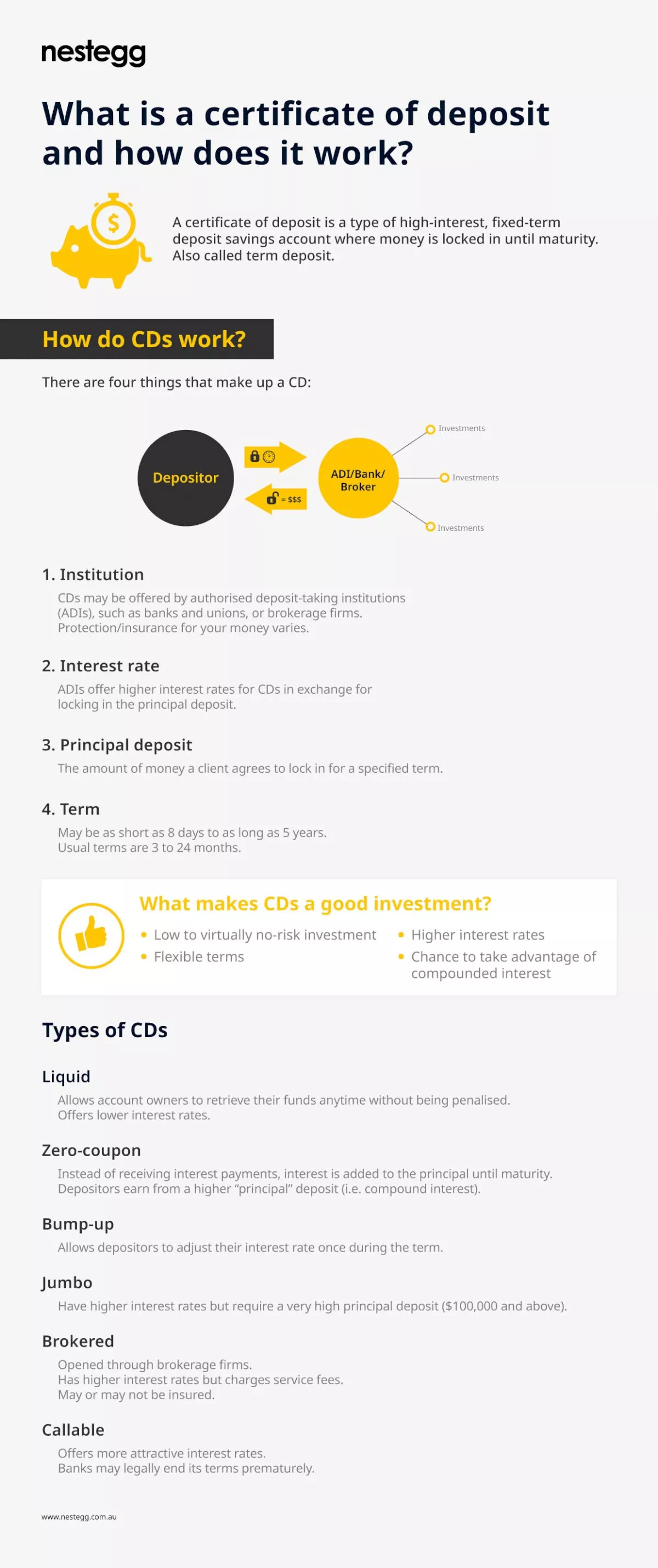 Click here to enlarge
A certificate of deposit (CD), also called term deposit (TD), is a type of time deposit savings account that offer account holders a higher interest rate. However, this is in exchange for locking their money in the bank over a fixed period.
Risk-averse individuals who are looking for a better way to invest money may find CD accounts a safe but worthy investment.
These are the four main reasons why CDs are a good investment for risk-averse people:
Low- to virtually no-risk investment;

Flexible terms;

Higher interest rates; and,

Chance to take advantage of compounded interest.

 
The first two reasons listed above are conditions that exist with the right institution. All the reasons above will be explained further at a later section.
Here's a basic guide to CDs and how it works to increase investment returns.
What is a CD/TD?
CDs can guarantee fixed returns that account holders would receive upon maturity— or the end of their chosen lock-in term.
Financial institutions may offer CD terms for as short as 8 days to as long as 5 years, though typical terms are three to 24 months. They may also be renewed upon maturity.
The term 'maturity' may seem like bonds and, CDs  are not dissimilar to bonds. The main difference is that bondholders are aware of who they are lending their money to.
CDs, on the other hand, means account holders commit their money to the bank for a fixed period, which gives the bank prerogative over that money until maturity. Banks may use it to fund investments of their choice or let it sleep, but account holders are still assured of the principal plus returns in interest once the money is released.
Can I withdraw the money from my CD?
Upon maturity, account holders may partially or fully withdraw their money,  renew the CD or opt for different terms. Early withdrawals are discouraged.
Most CDs don't allow early withdrawals, but some banks may permit it if the account holder agrees to pay the early withdrawal penalty. This penalty usually eats into the interests earned, and maybe even the principal amount, so account holders could incur loss instead of earning.
Those who cannot lock-in their money for long periods should either opt for shorter terms or rethink opening a CD account.
Types of CDs
Traditional or conventional CDs earn at a fixed interest rate and are locked-in for a fixed term, but CDs are now flexible and have branched out into different types. Here are some CDs offered by financial institutions:
Liquid
Liquid CDs allow account owners to retrieve their funds without being penalised, even if it is still within the term period. In exchange, banks pay lower interest rates since there is no assurance from the depositor that they will finish the term.
Zero-coupon
Those who have read about bonds would know that 'coupon' refers to 'interest rate'. Zero-coupon, however doesn't mean the depositor will not earn from their CD.
Zero-coupon CDs just mean that, instead of receiving payment in interest, the institution will add the interest to the principal. Depositors then earn from a higher 'principal' deposit.
Bump-Up
This type of CD allows depositors to adjust their interest rate once during the term to avail a better rate. Account owners should check the terms of their CD to learn whether a bump-up is allowed.
Jumbo
Jumbo CDs have higher interest rates but require a very high principal deposit, which is usually in the $100,000 mark and above.
Brokered
These are CDs opened through brokerage firms. Brokered CDs usually have higher interest rates, but they also come with service fees for managing the investment.
Unlike CD accounts opened in ADIs, brokered CDs may or may not be insured, so there is actually a chance that depositors could lose all their money.
Callable
When reviewing the terms and conditions of a CD, try to determine if the product has a call date. This is usually a given time frame before maturity.
Callable CDs usually offer more attractive interest rates, but banks are allowed to end its terms prematurely, whether the depositor wants to or not.
For example, a 5-year CD may have a 1-year call date. If the institution decides they are losing more money by paying the depositor a higher interest rate for that particular CD, they can just close their client's CD within a year of opening it and release the money earned.
This leaves the depositor suddenly without an investment even when they were supposed to be locked-in for the next 4 years.
The four main reasons explained
This section explains the main reasons provided at the beginning of the article.
Reason #1: CDs are very low-risk investments because account holders already know how much to expect based on how much they deposited, and they are also aware of when it will be available to them.
Since banks and other authorised financial institutions must comply with Australian Prudential Regulation Authority (APRA) regulations and are eligible for government insurance, each account holder is, by extension, insured up to $250,000. However, the APRA insurance covers only $250,000 per person per institution, so exceeding this amount in one bank means the excess amount is no longer insured.
The main risk CDs face is the possibility that the institution would close down, but the government insurance serves as a safety net for depositors. This is why people who consider a CD account should check APRAs list of ADIs first before making a commitment.
The other risk comes from rising inflation rates, but inflation affects pretty much all investments.
Reason #2: Each financial institution offering CDs have their own terms and conditions, so it is important for potential investors to shop around first, especially if they want flexible terms.
For example, early withdrawal is generally discouraged, but some institutions would allow it if the depositor agrees to pay the penalty. There are, however,  institutions that do not charge penalty fees if they withdraw within a given grace period.
Reason #3: Financial institutions offer higher interest rates for CDs because they are assured that the depositor will not just take their money anytime. This assurance allows banks to rotate the money more freely for investments, loans, or any other use.
The longer the money stays in the institution, the higher the interest rate. However, that also means it will take a longer time before depositors are allowed access to their money.
Reason #4: Stocks allow investors to enjoy the benefits of compounded interest but also pose a bigger risk to the principal investment, but CDs significantly lower that risk.
CD account owners may be able to work out a way to benefit from compounded interest as long as they have a good strategy in place.
One such strategy is called 'laddering', which means an investor splits their money into separate short, median and long-term CD accounts. Let's say these are CDs locked in one, three, and 5-year terms.
Once the 1-year CD matures, the principal and interest earnings are transferred to the 3-year term with the higher interest rate. This means the depositor now has a bigger principal and could earn more for the next 2 years with  the higher interest rate.
Once the median-term CD matures, they will roll over the money to the 5-year CD. This will result in a higher principal earning higher interest in the next 2 years.
If the depositor needed money during the time the short or median-term CD matured, they would be able to access and use it without problems.
How much do I need to set-up a CD?
Terms and conditions for CD accounts differ with each financial institution, but many banks allow their clients to open a CD for a minimum deposit of $5,000.
While investment returns on CDs still don't compare to earnings from well-performing stocks, it gives people security over their money because there is very little risk to their investment.
This information has been sourced from Banks.org.
Forward this article to a friend. Follow us on Linkedin. Join us on Facebook. Find us on Twitter for the latest updates
About the author