Try another search or check out these top posts
How to cut your expenses? Read this!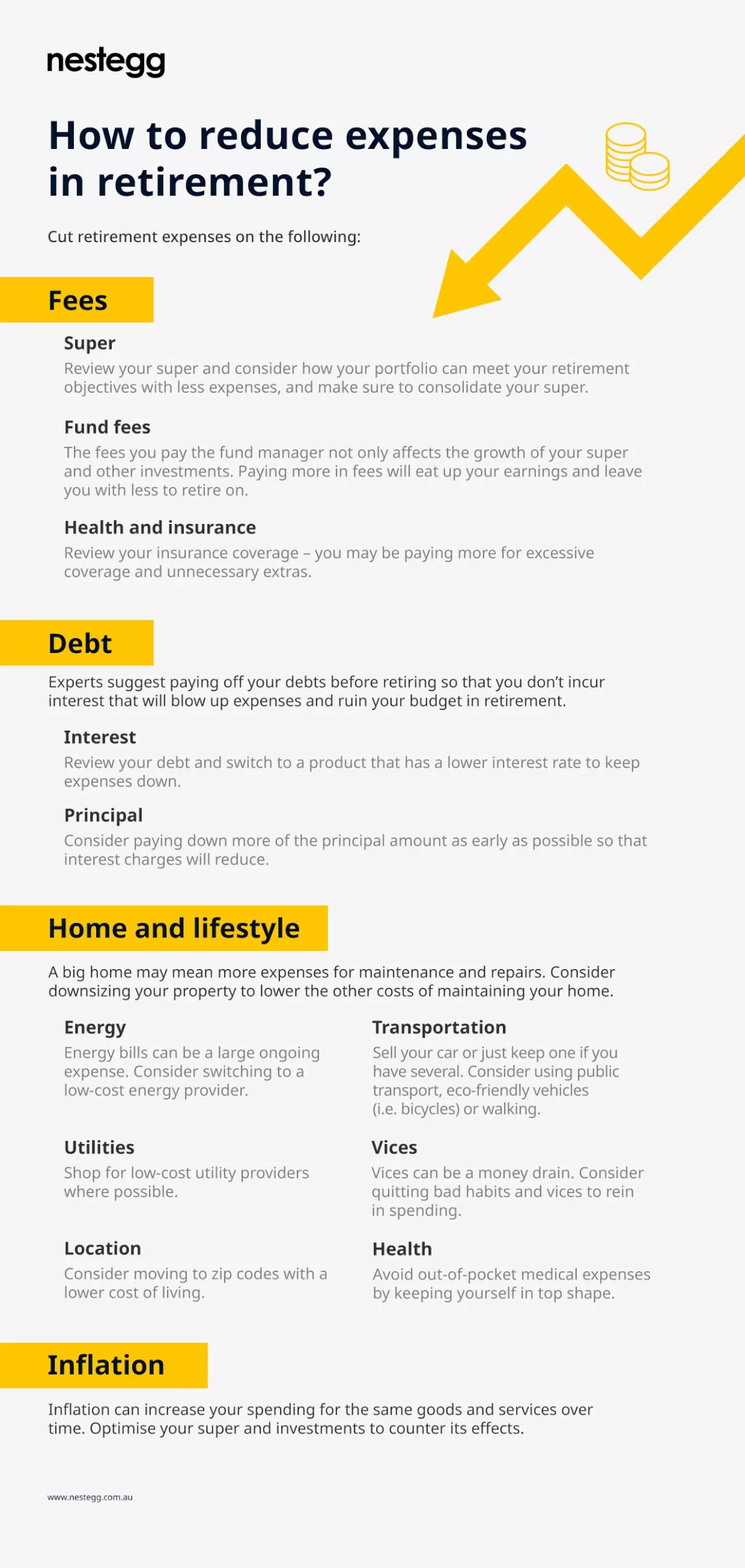 Click here to enlarge
>Below are five focus areas to consider in order to significantly reduce expenses and tip the scales towards the growth of your nest egg.
Savings

Did you know that you may still be losing money even when you're saving it?

Your deposit and investment accounts, including your super fund, all charge account keeping or management fees and other charges. This could be an issue when the money you deposit into them is not be geared for optimal growth.

Consider doing the following – if you haven't already done so – to further increase your savings:

Switch to an account with lower fees
While you may be earning money from these accounts, the fees and charges may take a significant chunk of those earnings and the balance.

Evaluate the various deposit accounts offered by your bank or authorised deposit-taking institution (ADI) and find the account type that gives higher interest but charges lower fees.

Switch to an account with higher interest
Review your deposit account and see how much interest your money earns in a year. Compare your bank's interest rate with other ADIs and see if you can find one that offers a higher interest rate so that you gain more from your savings.

If the economy isn't doing as well as expected and you have to choose between lower fees and higher interest, it's generally preferable to choose lower fees.

Evaluate and rollover your super
If you didn't do your research before choosing a super fund, now's the time to do so. Evaluate your current circumstances and determine whether your goals are still the same from when you first enrolled in your super fund.

Go over your annual statements or call up your fund manager and ask how your chosen fund has performed since you enrolled in it. Ask how well the fund has grown and have them translate it in percentage and dollar forms. 

Take a look at similar funds and see if there's a better performer with lower fees you can rollover your money to. Doing so can minimise the amount of money you pay in fees and the savings will form part of your balance instead.

Plan your taxes and take advantage of concessions
Filing taxes is an unavoidable responsibility, and unless you're a low-income earner who has been granted a tax exemption, all your income is subject to taxation according to your marginal tax rate.

However, you may use effective tax planning strategies to reduce your tax payable. For instance, you may maximise your concessional and non-concessional super contributions and claim a tax deduction for them. Doing this not only lowers your taxes but also helps grow your retirement nest egg.



Spending

The most effective way to significantly cut your expenses is to develop smart spending habits. Without the discipline to rein in your spending, it wouldn't matter how much money you save – you'd still end up in a save-spend cycle. 

Consider the following tips below to control your spending.

Understand your spending behaviour
The first thing you need is a solid idea of where your money goes and you can get this by tracking how you've been spending money. Collect all the bills and receipts from the past year, quarter or month and write down what you spent on and how much was paid.

This is the most important step because you won't know where to cut expenses if you don't know what you're spending on.

List down all your expenses and divide them into three categories: recurring necessities, periodic necessities and unplanned expenses.

Recurring necessities should contain regular expenses that typically require monthly payments and are necessary to keep you healthy and allow you to maintain a decent lifestyle. For example, utility, food, medicine, communication and transportation expenses.

Periodic necessities are necessary expenses that you spend for less frequently but are still required. These include car maintenance fees, periodic home repairs, premiums for auto insurance and similar products and tax professional annual fees. Note that car insurance may also be placed in the recurring necessities list if you pay for the premium on a weekly or monthly basis.

Unplanned expenses are purchases that aren't really necessary to maintain a decent lifestyle. For instance, the purchase of a new pair of shoes might not actually be necessary when you're only switching between two or three pairs of shoes.

Once you've listed everything down, take a good look at how you've been spending your money and cut down expenses where you can.

For instance, your previous grocery bills indicate that you spend an average of $321.56 weekly. Since the Australian Bureau of Statistics has found that the average household grocery spending for NSW residents is $275.41 weekly, you may wish to reconsider the type of goods you normally purchase as well as the amount of unnecessary or pricey items you usually buy.

Remember that unspent money is money saved, and the money you save can significantly grow if you invest and take advantage of the time value of money.

Shop smart
Many people spend more when they're out shopping, and many of their shopping expenses go to unnecessary purchases. To avoid unnecessary expenses while on a grocery run or leisurely trip to a shopping centre, consider doing the following things:

Make a list
Create a list of all the items you need before going out to shop and don't deviate from the list unless it becomes necessary to do so.

Take an inventory of all the stock items in your pantry to come up with an accurate list of items you need and will expire soon. Better yet, create a weekly menu so that you'd know exactly what items you already have and what else is needed.

A shopping list is especially helpful when buying groceries because that's when people tend to unwittingly reach for more items and rack up a hefty grocery bill.

Search for good deals
While it may be convenient to shop at the market closest to your home, you may be able to purchase some produce, meat or other grocery items at a lower price in another store. Consider going around town one weekend to check and list down the prices of the usual commodities you buy.

Likewise, take note of store sales and check for discount coupons, then schedule your grocery trip on that day so you can maximise your budget and maybe even have leftover budget.

Another trick is to sign up for newsletters of your favourite stores so that, even if you don't go to the mall to check, you'll receive an email when they hold a sale.

Shop with discounted gift cards
There are some online shops that sell different gift cards at a discounted price.

Consider purchasing discounted cards for the shops you frequent or plan to purchase from. If you're on the recipient of a gift card you know you won't use, you may turn the card to cash by selling it to the website at a discount.

Avoid paying with credit cards
As much as possible, don't pay using your credit card, especially if there is a high interest involved and you won't be able to pay in full when the bill arrives. You must be cautious with credit card transactions at all times because missed payments can significantly increase your debt.

If you must use your credit card, ask the merchant about any promotion that you can avail with your card such as a three-month interest-free period, cashback opportunities or rewards points.

Always weigh the pros and cons of using credit for a transaction before swiping your card and, if the advantages and disadvantages of using a credit card is either balanced or unfavourable, use cash. You may also check other sellers or stores that sell the same item because different stores may have different offers for credit transactions.

You need to know where you are financially and how you got there to be able to make effective changes in your spending.

Debt

Debt is the killer of any saving and spending plan you can make because it will blow up your expenses – but you don't have to fall victim to it. There are ways to avoid or survive from potentially larger expenses caused by debt.

Minimise credit card spending
Credit card debt is one of the easiest to amass if you're not careful with how you use your card.

Many people fall into the debt trap because they believe that simply paying the minimum every billing period would be fine. However, this only increases their debt because the interest rate is applied to their current balance plus the previous bill's remaining balance.

Consider only using your card in case of emergencies or if you have a good rewards program connected to your card usage. Just make sure you only use the card if you can pay the full amount every billing period. Otherwise, minimising your credit card spending is advisable.

Research before accepting loan or financing terms
Doing due diligence is a necessary step to ensure that you'll receive favourable loan terms –  and this applies whether you're a first-time loan applicant or not.

Experts recommend shopping around for the best deals and rates instead of simply accepting a financing or loan terms offered by sellers and their partner lender. Do your research to find the most favourable loan terms, but don't push forward with the loan until you're sure about the purchase so that it doesn't affect your credit score.

Always ensure that you will still have more than enough money left over to meet your daily expenses and grow your savings.

Create a debt repayment plan
If you've somehow accumulated debt from your combined expenses, make a plan to pay off your debt quickly by creating a manageable debt payoff calendar or strategy.

You may take the do-it-yourself route and use various tools and applications that can help you tighten your budget and create a payment schedule, or hire a professional who can create the plan for you.

You may also apply for a hardship variation and negotiate more manageable payment terms with your creditors.

Refinance if the conditions are favourable
You may also consider consolidating all your loans and debts into one credit provider that offers better rates so you only have to worry about one set of principal amount, interest rate and fees.

However, make sure that you will be able to pay your bill in full and on time each billing period because this is only a short-term solution. If you can't pay on time, the refinanced debt can make things harder because interest will be applied to a higher balance.

Remember that the amount you owe creditors with each credit card purchase is often larger than the actual price so avoid using credit unless you can pay off the full amount owing each billing period.



Lifestyle

You can also try tweaking your lifestyle or finding areas where a little extra effort can decrease your expenses without sacrificing your current lifestyle.

Make smart home improvements
You can find many ways to cut expenses and save money when you become conscious of how you utilise your resources at home.

Key focus: Energy efficiency
You can minimise your living expenses by improving your home to make it more energy efficient.

For starters, do a bit of research about the different energy providers that can cater to your household and ask for their rates. Then call up your energy provider and ask for a better deal to lower your electric bill and inform them that you're considering switching to another provider if they can't match the lowest or best one.

You may also switch to a programmable thermostat that would only adjust your home's temperature when you're expected to arrive back home. For instance, if you leave your house for work at 6.30am and get back at 8.30pm, the thermostat would shut off at 6.45am and start warming up your home 30 minutes before your arrival.

You may also consider lowering the temperature on your water heater and taking shorter showers. A few degrees cooler may translate to a few dollars in savings.

You may also consider doing your own laundry instead of bringing everything to the dry cleaners.

Transportation
The cost of owning a car doesn't end with your payment for the unit – you have to consider petrol, maintenance and car insurance, among other things. Simply put: owning a car can be really expensive.

If you don't have to travel as much anyway and it isn't difficult to get to work and back home even without a car, you may want to consider other means of transportation instead. For instance, riding a bike to work isn't only more environment-friendly, it's also good exercise so you can also reconsider your gym membership.

Food
If you're the type to eat out for lunch and on most nights, consider limiting the number of times you dine out. Take a more budget-friendly and healthier approach by bringing your own lunch to work.

A weekly meal plan can help you create a grocery list to ensure that you buy only what is required for the week and avoid reaching for items that you're not planning to eat anytime soon.

Entertainment
Do you use streaming services or maybe you have a high-fee mobile contract? Similar to our tip about energy providers, call up your providers and see if they could give you a better deal to lower your bills.

Better yet, think about how much entertainment you really need and, if you don't use it enough, consider if its worth cutting such services or downgrading them.

Evaluate all your entertainment subscriptions to determine if you really use them and only keep what you use often. If, for instance, you have both Foxtel and internet TV subscription but you watch on your mobile devices 90 per cent of the time, consider ending your television subscription to save on fees.

You may also do the same for gaming platform subscriptions.

Take a good look at your current lifestyle and find areas for improvement and things you can do without – then cut your expenses by removing them.



Income

Your income is an important consideration when it comes to cutting expenses because it may be a direct contributor to the increase in your spending.

Many people tend to become more relaxed with their money as their income grows as this gives the idea that they have extra money to spare. 

Take a look back at how your lifestyle and spending changed as your income grew over the years and you may find that expenses, regardless of necessity, also increased.

If this is really the case, begin building a strong foundation for an effective saving habit. Make sure to cut unnecessary spending and focus on growing your nest egg instead.

Remember that a higher income can give you more money to save, but that will only happen if you don't spend as much as or more than your additional income.
Explore nestegg for more tips on saving and smart spending.
Forward this article to a friend. Follow us on Linkedin. Join us on Facebook. Find us on Twitter for the latest updates
About the author