Try another search or check out these top posts
Save
1 in 2 Aussie pet owners spends on their pets more than themselves
Does owning a pet eat into your monthly budget? You're not alone.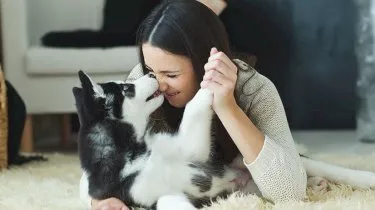 1 in 2 Aussie pet owners spends on their pets more than themselves
Half of Australian pet owners are more willing to invest in their pet's lifestyle than their own.
According to new research data released by Afterpay, 53 per cent of Australian pet owners are willing to spend more on them each month than on themselves.

The research found that the average Aussie pet owner spends around $309 on their pet each month, adding up to around $3,700 each year.

Fifty-nine per cent of Aussie pet owners were willing to make personal sacrifices to ensure that they could meet the costs associated with pet ownership.

Also, 63 per cent of pet owners said that the costs of pet ownership were often greater than they thought, with 49 per cent finding that the costs of keeping their pet are usually more than they've budgeted for.

More than just the average price of pet ownership, the research noted that 43 per cent of surveyed pet owners said they spent more of their disposable income on their pets each month than they did on themselves. Forty-five per cent went so far as to dip into their savings to do so.

As you might expect, those that did were often paying for more than just the essentials.

One-quarter of Aussies said they purchased clothing and accessories for their pets, 45 per cent said that they treat their pets when it's their birthday, and 20 per cent admitted they treated their pets to pamper sessions.

A reflection of this trend, Afterpay's research into the spending habits and financial costs of pet ownership found little doubt that it was money well spent.

Sixty-five per cent of pet owners said that having a companion during the last 18 months of lockdowns has helped them with both their physical and mental wellbeing.

"It's been a rough couple of years, but our pets — lovingly, loyally and without question — continue to get us through our day to day," Afterpay's country manager and head and sales for APAC, Katrina Konstas, said.
Forward this article to a friend. Follow us on Linkedin. Join us on Facebook. Find us on Twitter for the latest updates
About the author