Try another search or check out these top posts
Save
Border reopening drives Aussies to save thousands for travel
More than half of Australians are currently saving to take a trip in 2022.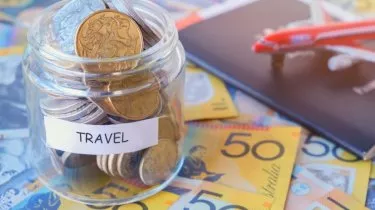 Border reopening drives Aussies to save thousands for travel
Aussies are planning to save an average of over $5,000 for travel in 2022, according to a new survey from the Commonwealth Bank, as international borders swing open.
Travel was identified by respondents as the top reason to save, and 51 per cent said they were currently putting money aside to take a trip this year.
In total, over 70 per cent of Aussies said they were planning to travel domestically or internationally in the coming months.
While the average Aussie plans to save $5,072 to use for travel during 2022, CBA found that actual savings were lagging behind, with an average of $1,848 currently earmarked for travel.
"We're seeing that while people feel excited about travelling again, one in two Aussies are worried about the cost of travelling – and this is even more common for young adults," said CBA executive general manager of everyday banking Kate Crous.
"To help mitigate concerns, there are a number of tools online and in our banking app that can help customers set savings goals and track their progress. There are also payment options that allow customers to break up the cost of their holidays – so they can focus on enjoying them."
Thirty-four per cent of respondents said they would be more likely to travel, or would travel more, if they were able to spread out payments over time, including 54 per cent of those aged under 30.
While 46 per cent of Aussies planned to pay for their travel bookings using either a buy now, pay later provider or a credit card, upfront payment via cash or a debit card were the preferred method of payment for 68 per cent of respondents.
Accumulated frequent flyer points will be put to use by 22 per cent of Aussies, while 10 per cent will utilise travel vouchers from previously cancelled bookings due to the pandemic.
CBA and the Melbourne Institute previously found that the median savings balance of Australians had climbed 42 per cent over the past two years.
Household spending intentions for travel as measured by CBA also rose by 14.9 per cent in January compared to a year earlier with higher spending for travel agents, airlines, motor home rentals, cruise ships, bus lines and airports.
Getting away and relaxing was the main reason to travel, according to 65 per cent of Aussies, ahead of visiting family and friends (52 per cent) and exploring new places (46 per cent).
Forward this article to a friend. Follow us on Linkedin. Join us on Facebook. Find us on Twitter for the latest updates