Try another search or check out these top posts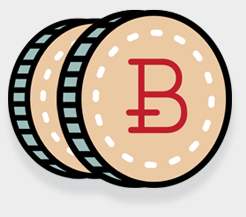 Fast facts for all you need to know about Bitcoin
All the things we thought you needed to know
more about bitcoin and cryptocurrency,
we now made available to you.View now >
Bitcoin is probably the most well-known digital currency in the world, with its popularity rising further after it rallied for over a year in 2017. It is the first of its kind to have a decentralized peer-to-peer payment system with no kind of central regulatory body. As of 2010, one bitcoin was equivalent to $1.00 or A$1.28.
Bitcoin might seem like a lucrative investment, but it is very important to be well-informed before delving into the world of cryptocurrencies. Bitcoin transactions can be very tricky, and investing without the proper knowledge could lead to huge losses. For those who are not exactly sure what bitcoin is, here are some essential bitcoin trivia everybody should know.
There are over 1,508 types of cryptocurrencies. The most famous cryptocurrency is Bitcoin, but other kinds of cryptocurrency also exist, such as ethereum, litecoin, and ripple.
Capital gains tax applies when use of bitcoin exceeds $10,000. Failing to pay up on these taxes could result to a failure-to-pay penalty of 0.5 per cent a month plus interest.
About 43 per cent to 49 per cent of all bitcoin transactions can be linked to the buying and selling of illegal goods. These include pirated software, stolen accounts to streaming websites, credit card credentials, and passports.
ivyCoin is developed to aid the visibility into transactions of $10,000 or more. ivyCoin serves as a banking intermediary for cryptocurrency owners and has its own system of validation for both the customer and the transaction purpose.
Nobel Prize-winning economist Robert Shiller says bitcoin is an "interesting experiment". When asked about bitcoin futures, Shiller said he was "struck" that it is both possible and difficult to short bitcoin, a method wherein bitcoin traders sell an asset in advance in order to gain profit in the future.
If you bought $1,000 bitcoin in 2010, you'd have $138 million today. Bitcoin rallied tremendously last year, with its value surging past $7,400 or roughly A$9,500 in November 2017. Its peak rally caused the bitcoin to be valued at more than $19,000.
The Winklevoss twins are estimated to have $1 billion worth of bitcoin. American-rowers-turned-venture-capitalists Cameron and Tyler Winklevoss claimed in April 2013 that they owned almost 1 per cent of all bitcoin in existence, with bitcoin holdings amounting to at least $1 billion.
A total of 39.8 per cent of investors surveyed say bitcoin will have a negative impact on the investment industry. Survey also shows that 44 per cent of investors are worried about the security of their bitcoin investments.
A staggering 93 per cent of experts do not predict digital currencies being adopted for widespread use. Bitcoin's lack of stability is one of the biggest barriers to the mainstream adoption of cryptocurrencies.
However, 94 per cent of experts do think bitcoin will be used in the economy and financial sector. Experts are nevertheless pushing for more regulatory measures for digital currencies since their anonymity could lead to illegal activities such as tax evasion.