Invest
Facebook debuts new name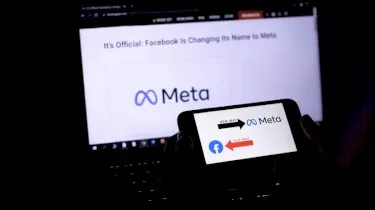 Facebook debuts new name
Facebook has rebranded itself with a new name: Meta.
"From now on, we will be metaverse-first, not Facebook-first," Meta CEO Mark Zuckerberg said.
The metaverse is a high-concept project that Mr Zuckerberg has been teasing for several years now.

The term itself originally comes from Neal Stephenson's novel Snow Crash, but modern backers of the idea typically pitch it as a virtual-reality counterpart or successor to the internet.

According to Meta, "the metaverse will feel like a hybrid of today's online social experiences, sometimes expanded into three dimensions or projected into the physical world".
The move doesn't mean any change for Meta's internal corporate structure, though it will change the way the company reports its financials each quarter. The company will also be retiring their FB stock ticker for a new MVRS one in December.

In an open letter about the name change, Mr Zuckerberg said that the Facebook brand was so tightly linked to a single product that it failed to reflect the company's future ambitions.

"The metaverse is the next frontier in connecting people, just like social networking was when we got started," he said.
Over the next decade, Mr Zuckerberg suggested that the metaverse could reach an audience of billions, create millions of new jobs and host hundreds of billions of dollars in digital commerce.
"We believe the metaverse can enable better social experiences than anything that exists today, and we will dedicate our energy to helping achieve its potential," he said.

The announcement comes several weeks after reports surfaced that the social networking giant was considering a new name and amidst a wave of new controversies spawned by the release of confidential documents by whistleblower Frances Haugen.

Monash University's Dr Luke Greenacre described the name change as confusing.
"The purpose of the new branding seems quite unclear; if it is to move on from the current controversies that Facebook is experiencing, then it somewhat underestimates its users and their memory of the change," he said.

Dr Greenacre also suggested that it may prove counterproductive for Facebook's performance in the market.

"Although Facebook as a brand has some baggage, it remains a really powerful brand in the market that people know. Throwing that away seems very bold, and quite questionable as a business decision." 


Forward this article to a friend. Follow us on Linkedin. Join us on Facebook. Find us on Twitter for the latest updates
About the author