Try another search or check out these top posts
Invest
Online spending on the rise again amid Omicron surge
Aussies are spending more online but are spending less overall.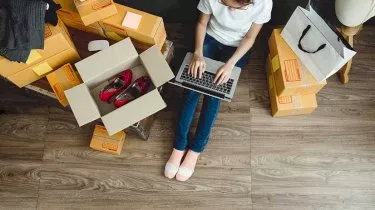 Online spending on the rise again amid Omicron surge
Spending in the first half of January was down 27 per cent compared to the first half of December, according to new data from ANZ, as the effects of Omicron continued to be felt.
ANZ senior economist Adelaide Timbrell said that the decline was greater than had been seen in previous years and noted that spending might remain low in the future in light of recent weaker consumer confidence figures.
"Entertainment and travel spending has continued to drift down, while groceries have improved and non-food retailing and dining has stayed somewhat stable at low levels through January," she said.
Alongside the overall decline in spending, ANZ also found that Australians were shifting their spending online for both dining and non-food retailing, but not quite to the same levels seen previously.
Over 10 per cent of dining and takeaway spending during the first half of January occurred online, according to the bank's data, well above the 4 per cent seen pre-pandemic but down from the 12 to 14 per cent share recorded during lockdowns.
Additionally, 25 per cent of non-food retailing occurred online in the first half of the month, up from the 20 per cent seen recently outside of lockdown periods but still below the 40 per cent peak reached in the Delta lockdowns.
In a recent survey of online shopping habits, enterprise marketplace platform Mirakl found that online marketplaces, in particular, had seen a surge in popularity during the pandemic.
Forty-three per cent of Australian consumers said they shopped exclusively or a lot on marketplaces during 2021, up from 26 per cent in 2019, and 92 per cent expected to maintain or increase their marketplace usage in the future.
"The onset of the pandemic accelerated many changes in consumer behaviours that were already in place, with consumers turning to eCommerce options that were more convenient, faster, more reliable, and accessible on the run or from the comfort of their own home," said Mirakl co-chief executive and co-founder Adrien Nussenbaum.
Australians conducted 33 per cent of their online shopping through marketplaces, and 60 per cent said online marketplaces were the most convenient way to shop today.
Forward this article to a friend. Follow us on Linkedin. Join us on Facebook. Find us on Twitter for the latest updates