Try another search or check out these top posts
Invest
Latest wages data suggests a June rate rise of 25 bps
The Australian Bureau of Statistics has released the latest wage price index.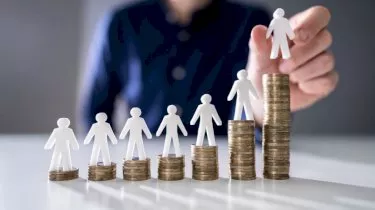 Latest wages data suggests a June rate rise of 25 bps
Wages grew by 0.7 per cent during the March quarter, according to the latest wage price index (WPI) from the Australian Bureau of Statistics (ABS).
The lift, which was slightly below market expectations, brought the annual rate of growth to 2.4 per cent, up from 2.3 per cent in the previous quarter.
"The annual rate of wage growth has risen for each of the last five quarters from a low point of 1.4 per cent in December quarter 2020," said ABS head of price statistics Michelle Marquardt.
The ABS said that rises across the private sector were the main driver of growth during the quarter, with an increase of 0.7 per cent quarterly and 2.4 per cent annually.

Meanwhile, public sector wages grew by 0.6 per cent in the March quarter 2022 and 2.2 per cent annually.
ANZ head of Australian economics David Plank had warned that a quarterly rise for the WPI above its forecast of 0.8 per cent would have increased the likelihood of a 40 basis point rate hike by the Reserve Bank (RBA) in June.
"A 40 bp rate hike was on the table in May and will likely be discussed by the board in June, though the board's stated preference is to return 'to normal operating procedures'," he noted.
"This suggests that going more than 25 bps in June will require, as [Philip] Lowe said in his post meeting comments, 'a very strong argument to do so'."
Commonwealth Bank head of Australian economics Gareth Aird said that a WPI figure in line with expectations would be consistent with what RBA governor Lowe has described as a "business as usual" hike of 25 bps in June.
"A rate hike of more than 25 bps at the June Board meeting would put unnecessary angst into a household sector that is already quite concerned about the economic outlook, in part because of the expectation of higher rates," he warned.
NAB economists, who accurately predicted the quarterly lift of 0.7 per cent, flagged the potential for higher wages growth moving forward.
"With unemployment to remain low, we see wage growth continuing to edge higher over the year, likely passing 3 per cent y/y around December – a rate of wage growth not seen in over a decade," they said.
The RBA's May statement on monetary policy forecast that the WPI would pick up to around 3 per cent by the end of this year.
"Wages growth is then forecast to strengthen further as the unemployment rate declines, to be 3.75 per cent by mid-2024; this would be the fastest pace since 2012," the RBA predicted.
Forward this article to a friend. Follow us on Linkedin. Join us on Facebook. Find us on Twitter for the latest updates