Try another search or check out these top posts
Invest
Top 5 reasons why you need a financial adviser
What can a financial adviser do for you? Learn the reasons why seeking professional advice can be a good thing for your finances.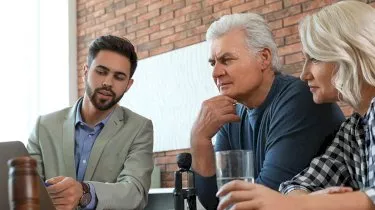 Top 5 reasons why you need a financial adviser
What can a financial adviser do for you? Learn the reasons why seeking professional advice can be a good thing for your finances.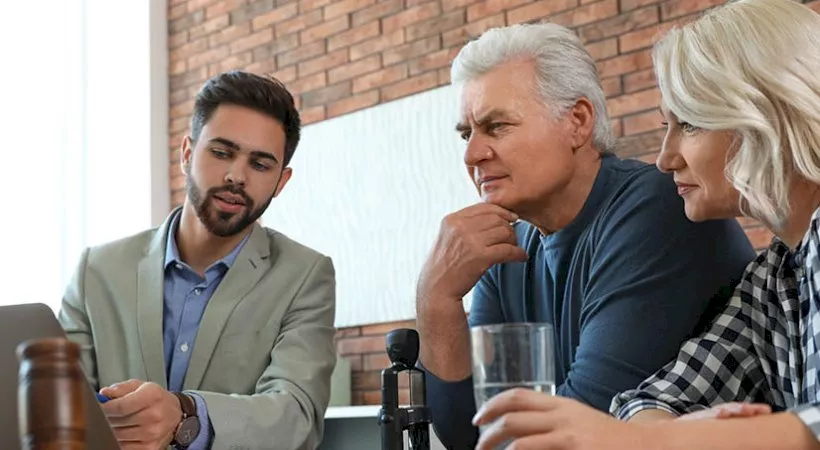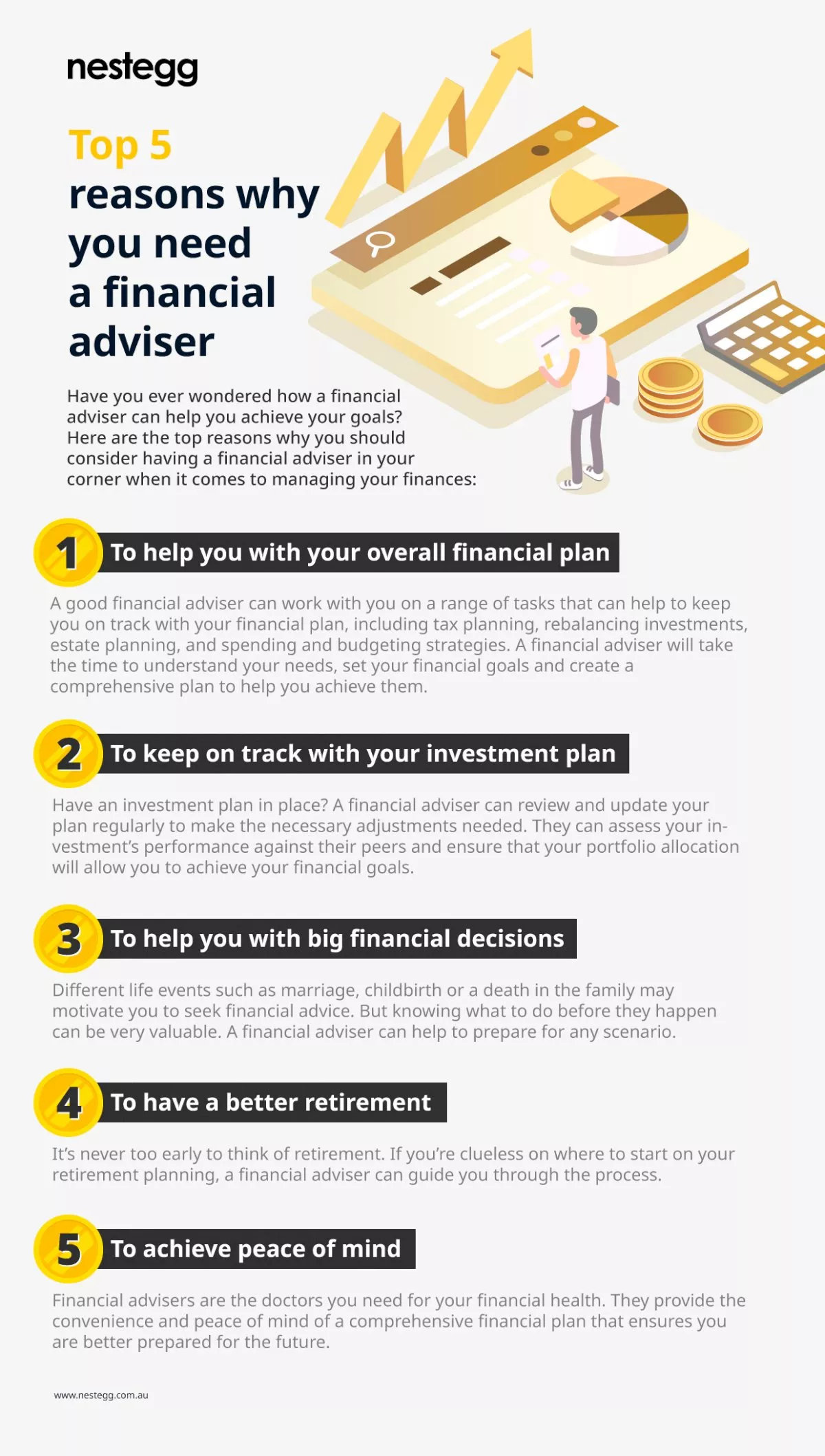 Click here to enlarge
We hate spending money on things we can do by ourselves. The rise in popularity of the do-it-yourself mentality is partly because people can save money on tasks or things they think they can do better on their own. 
And managing money is no exception. When it comes to our finances, most of us start out thinking we can handle financial decisions without professional help.
However, as we enter the workforce and we go through different life events, we begin to wonder: Am I making the right financial choices? Am I saving enough money for retirement or to meet my financial goals? 
Additionally, Australia's financial landscape is ever changing. The laws and regulations surrounding superannuation, taxation and investments are just some of the aspects where legislative changes are making it increasingly difficult to make the right financial decisions. When you're starting to have these concerns, maybe it's high time to seek the help of a qualified financial adviser. 
A financial adviser is someone who gives professional financial advice to their clients. But they do so much more than that. They offer a wide range of services within their field of expertise to help you achieve your goals by providing a tailored and personalised financial plan.
Simply put, a financial adviser will help you reach your financial goals in the best way possible for you. However, there are a lot of people who fully realise the importance of working with a financial adviser. Some people think it's too expensive or think it's unnecessary to seek advise about money. Let's look at the top reasons why maybe you should book an appointment with one today. 
Why do I need a financial adviser?
1. To help you with your overall financial plan
Some people think that a financial adviser's job is only to invest their money in stocks, bonds and other assets. While that is one of their job descriptions, it is not the only service they offer. 
They can also work with you on a range of tasks that can help to keep you on track with your financial plan, including tax planning, rebalancing investments, estate planning, as well as spending and budgeting strategies. A good financial adviser will take the time to understand your needs, set your financial goals and create a comprehensive plan to help you achieve them. 
2. They keep your investment plan on track 
As you progress through your life and your income and assets begin to increase, you can start thinking about how to grow it rather than consolidate it. You then start to ask if your investment strategy will be effective in the long term. How much money should be in your super account at your current age to have a comfortable retirement? What investments should you choose to boost your super balance? Is your portfolio properly diversified, or do you need to change it when you get older? 
Even when your investments have been put in place, they should be monitored in case of market developments or if unexpected events push them off track. This is where a financial adviser comes in. They can keep your investment plan updated through regular reviews of what you're doing and provide suggestions if you need to adjust your investment plan to incorporate new goals or remove or change existing ones. They can assess your investment's performance against their peers and ensure that your portfolio allocation will not be affected as markets fluctuate.  
3. To help you with big financial decisions
Major life changes make people realise how much they don't know about their financial lives and what it could cost them. Life events such as marriage, buying a house, child birth or a death in the family often trigger people to seek help in managing their finances. 
While major life events often motivate people to seek help from financial advisers, knowing what to do before they happen can be very valuable. Even if you think you're too young to think about these life events, a financial adviser can help you take charge of your decision making. By laying out your long-term financial goals with an adviser and doing preparations in place for reaching them, major life events are less likely to derail you.  
4. To help you with retirement 
It's never too early to think of retirement. If you're clueless about where to start on your retirement planning, a financial adviser can guide you through the process. Financial planning usually includes a retirement plan. Your adviser will provide you with the proper recommendations to help you achieve your envisioned retirement. If you have already started investing towards your goals, your adviser will review your current situation and provide you with suggestions to reach your financial targets (e.g. sufficient retirement income). A financial adviser can help you maximise your earnings and save for retirement so that you don't have to figure this out for yourself.
5. To save time and achieve peace of mind
Money is a complicated subject, and there are a lot of things you need to consider to protect it and make the most out of it. If a busy working professional doesn't have time to oversee their investments, it can be a cause of stress. If you're a retiree, you may always be worried if you are overspending or running out of money. Worries or disagreements about finances are among the top stressors for individuals and couples alike, so these issues are a real cause for concern. 
A financial adviser would give you the peace of mind you need when dealing with financial matters. Studies show that people who receive professional advice generally have a greater level of personal happiness and increased peace of mind. Additionally, having a comprehensive financial plan in place prevents arguments with loved ones, significantly lowering your stress and saving your time. And this is the true value of financial advice; it extends beyond measurable financial gains to healthier relationships and improved personal satisfaction. 
Conclusion
There are a lot of reasons people choose to work with a financial adviser. They can help you meet your financial goals and guide you through your financial journey. They can help you save money, invest wisely and retire comfortably (among other benefits). Most importantly, they can give you peace of mind or reduce your stress regarding financial matters, which makes working with a financial adviser worth it.
Don't know how to find the right financial adviser for you? Read here to learn how. 
Forward this article to a friend. Follow us on Linkedin. Join us on Facebook. Find us on Twitter for the latest updates