Try another search or check out these top posts
Earn
Wages are edging closer to RBA target
Wages have continued moving upward since the end of 2020.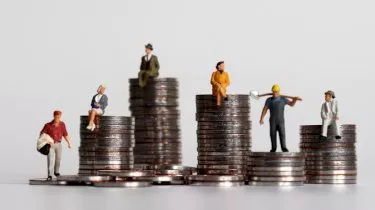 Wages are edging closer to RBA target
The wage price index from the Australian Bureau of Statistics (ABS) rose by 0.7 per cent during the December quarter, bringing annual wage growth to 2.3 per cent.
Wages have continued to move upward from a low of 1.4 per cent in the latter half of 2020, but have only just returned to the levels last seen in mid-2019.
"The proportion of pay rises reported over the December quarter was higher than usually seen at this time of year," said ABS head of price statistics Michelle Marquardt.
"Wage pressure continued to build over the December quarter for jobs with specific skills. Private sector wage growth occurred across a broad range of industries as businesses looked to retain experienced staff and attract new staff."
The accommodation and food services sector recorded the highest rate of annual wage growth at 3.5 per cent followed by a 2.6 per cent rise for retail.
Private sector wages have increased by 2.4 per cent over the past year while wages in the public sector have moved 2.1 per cent higher.
The Reserve Bank of Australia (RBA) has previously indicated that wages growth of about 3 per cent is a key target for lifting rates alongside inflation remaining sustainably between 2 and 3 per cent.
The central bank does not currently expect that the wage price index will reach 3 per cent until June next year, with rises to 2.5 per cent in June and 2.75 per cent in December this year.
"For the RBA, today's figures support the view that it may take some time to lift wages growth such that the 'norm' becomes a wage rise of 3-4 per cent, rather than the 2 per cent of recent years. And that just because the unemployment rate is approaching 4.0 per cent, does not necessarily guarantee that wages growth will pick up strongly," said HSBC chief economist Paul Bloxham.
"The RBA is seeking to run the economy hot for a while to try to reset these wage settings norms."
VanEck head of investments and capital markets Russel Chesler predicted that wage costs could rise above 3 per cent per annum later this year due to the tightness of the labour market.
"We are seeing severe labour shortages emerge across industries and around the nation and this will worsen as the year unfolds," he said.
"Economic growth will likely pick up pace as the economic effects of the pandemic lessen and business confidence increases, prompting employers to boost staff numbers, which would add to an already tight labour market."
Mr Chesler predicted that increased demand for pay increases from workers could push inflation over 4 per cent this quarter and potentially lead to the RBA lifting rates in May.
VanEck has forecasted interest rates will rise to between 1 and 1.25 per cent by the end of the year while HSBC is expecting rates to begin rising in the third quarter.
Forward this article to a friend. Follow us on Linkedin. Join us on Facebook. Find us on Twitter for the latest updates