Try another search or check out these top posts
Invest
What does a Labor win mean for your portfolio?
Anthony Albanese has declared victory at the 2022 federal election.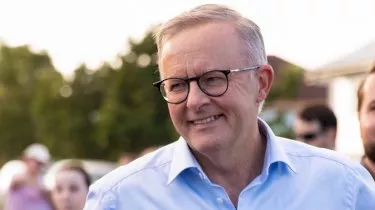 What does a Labor win mean for your portfolio?
Scott Morrison conceded the vote on Saturday night.
"I am humbled by this victory and I am honoured to be given this opportunity to serve as the 31st prime minister of Australia," Anthony Albanese said. 
"My Labor team will work everyday to bring Australians together and I will lead a government worthy of the people of Australia," he added.
This breaks the Coalition's almost decade-long reign, after it assumed power in the 2013 election with Tony Abbott's leadership.
The party endured three prime ministers in three consecutive terms in the form of Mr Abbott, Malcolm Turnbull and Scott Morrison.
Last month, AMP's Shane Oliver predicted minimal impact on investment markets if there is a change of government.
His conviction was based on the fact that, unlike three years ago, the policy differences in this election had been a "non-event".
This time around, Labor opted for a more moderate approach, throwing out Shorten's left-wing reconstruction, which offered the starkest choice seen since the 1970s.
Like the Coalition, the ALP's election campaign focused largely on repairing the budget through economic growth rather than austerity and its priority areas of energy, skills, the digital economy, childcare, and manufacturing had a significant overlap with the Coalition.
As such, with the exception of climate policies, Dr Oliver remained confident that while jitters may be higher in investment markets amid a Labor win, "it's hard to see a big impact on markets if there is a change in government".
"Once in government, political parties are usually forced to adopt sensible policies if they wish to ensure rising living standards and arguably there has been broad consensus in recent decades regarding key macro-economic fundamentals – eg, low inflation and free markets.
"So ultimately economic and interest rate cycles have a dominant impact on investment markets rather than specific policies under each government," he continued.
However, in a market update on Sunday, Dr Oliver cautioned that the main risk for markets will come if Labor has to rely on the Greens to form government. He hinted that they could push Labor down a far less business-friendly path than its election platform suggested, such as implementation of the Greens' proposed super profits tax on business.
Markets aside, Dr Oliver questioned whether Labor, the minorities and independents are prepared for the significant budget repair and the sort of economic reform agenda that will likely be necessary if inflation and interest rates remain higher for longer.
"But then again neither was the Coalition," Dr Oliver said.
"Governing in a world of higher inflation and interest rates will be the main challenge for the new government". 
Labor's renewables pledge
In his budget reply in March, Australia's new PM Anthony Albanese promised to act on climate change and "seize the chance to transform our country into a renewable energy superpower".
The centrepiece of Mr Albanese's pre-election budget reply was a $2.5 billion commitment to improve the aged care sector.
"I'm announcing Labor's plan to put security, dignity, quality and humanity back into aged care," Mr Albanese said.
But Mr Albanese also promised to "end the climate wars".
Accusing the Liberal government of "seeking to divide", he vowed to bring people together and deliver real policy reform.
Climate change is one front he plans to deliver on.
"Climate change is here, and its consequences are devastating," Mr Albanese said.
Labor's Powering Australia plan, unveiled late last year, aims to achieve an economy-wide emissions cut of 43 per cent by 2030, and net zero emissions by 2050.
Mr Albanese also spoke about revitalising Australian manufacturing and powering that manufacturing with Australian made renewable energy.
"Exporting resources will always be important to Australia's economy.
"But we should also use our resources – like our minerals and rare earths – to make products like batteries here, instead of just shipping them offshore and importing the finished goods."
How is the share market tipped to react? 
The Australian share market has historically increased by an average of 0.6 per cent in the three weeks following a Labor election victory.
Based on the average performance of the All Ordinaries index in the 15 trading days after every election since 1990, CommSec found that the stock market typically performed worse after a Labor victory in comparison to the average lift of 1.2 per cent.
This trend is also reflected on the very first post-election trading day, according to CommSec associate equity market analyst Divik Nigam.
"In elections held since 1990, on the trading day after the poll date, on average, the All Ordinaries Index ticked 0.3 per cent higher," he said
"When the LNP won, the index delivered a 0.5 per cent increase, but when Labor won, the index finished flat on average."
However, CommSec identified that the performance gap was much narrower in the week after the election with an average lift of 0.1 per cent overall and 0.2 per cent after a Labor win.
A total of 11 federal elections have been held since 1990, including Labor victories in 1990, 1993, 2007 and 2010.
The All Ords has moved higher in the 15 trading days following eight out of the past 11 elections, including each one since 1998. 
"The four strongest post-election rallies happened in the 15 days following the 2016, 2010, 2013 and 2007 federal elections, when the All Ordinaries Index climbed by 4.6 per cent, 3.1 per cent, 3.1 per cent and 2.6 per cent, respectively," said Mr Nigam.
Meanwhile, in the 15 days leading up to the past 11 elections, the All Ords has risen by an average of 0.5 per cent overall, including a fall of 0.4 per cent prior to Labor wins.
"Even though elections may sway share markets and the currency in the short term, it is important to note that it is the earnings profile of companies and the strength of the economy that play greater roles in determining the long-term performance of the share market and the Aussie dollar," Mr Nigam concluded.
Forward this article to a friend. Follow us on Linkedin. Join us on Facebook. Find us on Twitter for the latest updates