Try another search or check out these top posts
4 things you need to know as a first-time investor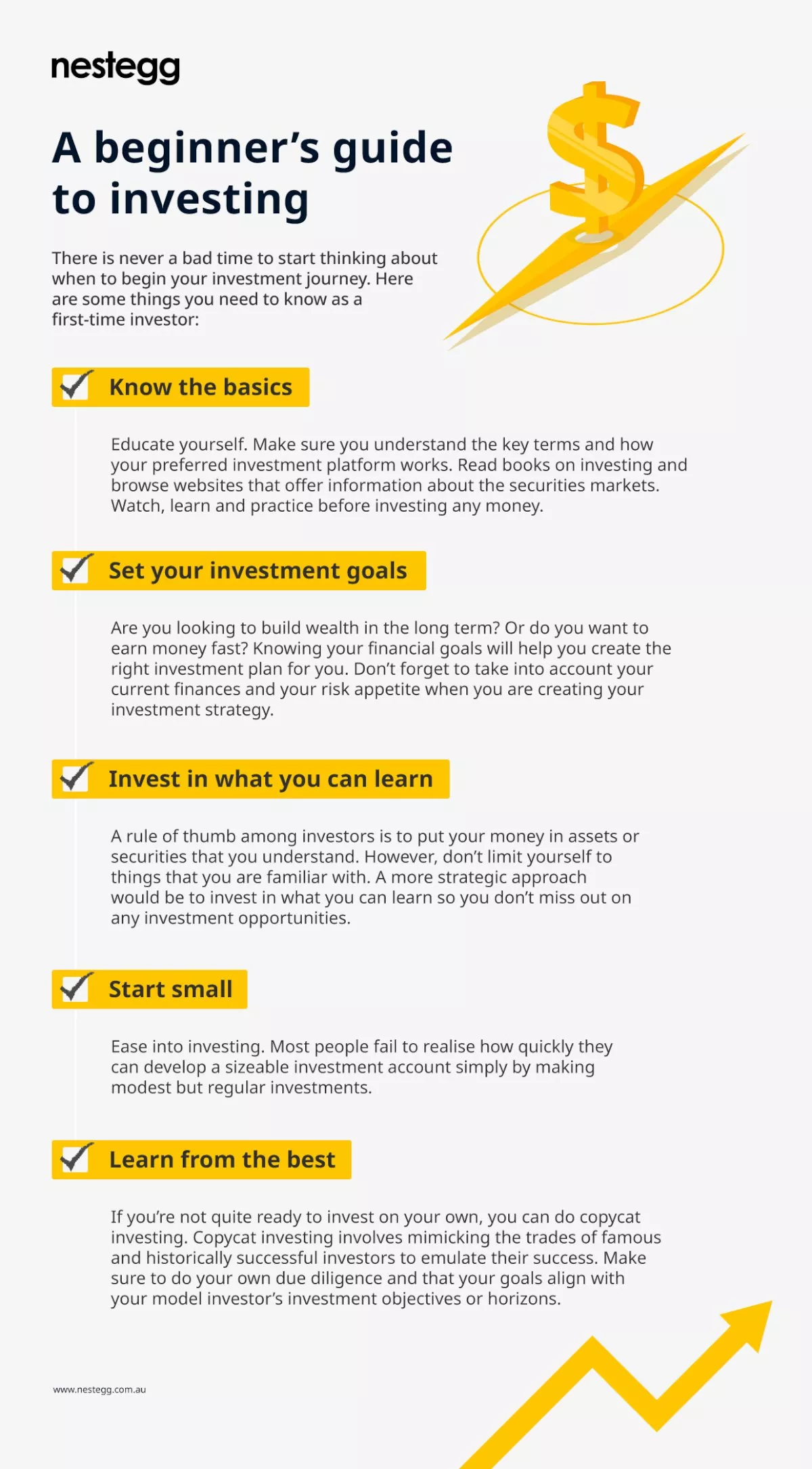 Click here to enlarge
Robert Francis, the Australian managing director of investment platform eToro, has explained to nestegg that "there is never a bad time to start thinking about when to begin your investment journey".
Even in the midst of a pandemic, it's still the case.
"While a lot of the market has experienced a decline, some areas are climbing and delivering returns."
He listed off stocks in the healthcare sector, e-commerce and online shopping, technology, the work-from-home economy, soap and disinfectant manufacturers, and even home entertainment as being seen as opportunities by some.
"For example, Shopify, the multinational e-commerce company, has jumped 13 per cent in the last two weeks and 200 per cent since the start of April due to the demand in online shopping," Mr Francis outlined.
He also flagged DocuSign as worthy of mentioning, with the company having gained 21 per cent in July and 186 per cent since the start of April.
"DocuSign allows companies to manage electronic agreements online via their cloud services, which has been a huge hit since the world began to work from home."
For anyone who is in a position to begin investing at the current time, the managing director has the following advice:
Learn the basics
"Make sure you understand the general lingo and how your preferred investment platform works," Mr Francis began.
You don't want to accidentally lose money because you misunderstood a term or clocked the wrong buttons.
With investing, it's a case of "practice makes perfect".
The managing director has touted the benefits of beginning with a virtual portfolio, as is offered by some platforms, before investing real money.
This means "you can learn the ropes with zero risk".
Invest in what you know
"By investing in your passions and interests, you are more likely to understand how they best operate."
It doesn't mean you don't have to do homework though, Mr Francis conceded.
For tech lovers, it may be worth buying stocks in Apple or Microsoft, while fashion-savvy individuals may prefer investing in shopping brands such as ASOS or H&M.
Start small
It's a common misconception that you need a lot of money to make investing worthwhile, the director commented.
"If you start low but invest regularly, you'll be surprised how quickly your portfolio will build up."
Learn from the best
Mr Francis is an advocate of copying the strategies of experienced and wealthy investors to emulate their success.
"Investing can be daunting, so if you're not quite ready to invest on your own, consider putting your money in the hands of other successful experts," he has advised.
Mr Francis has previously shared three of the biggest mistakes new investors can make, as well as a number of habits that can help or hinder the creation of an investment portfolio. 
Forward this article to a friend. Follow us on Linkedin. Join us on Facebook. Find us on Twitter for the latest updates
About the author