Try another search or check out these top posts
Invest
Property prices could add a further 10% in 2022
REA Group has predicted that property prices could rise again this year.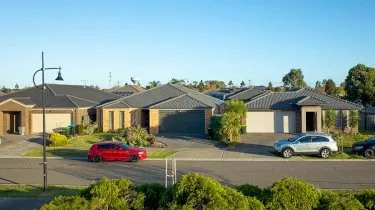 Property prices could add a further 10% in 2022
Property prices across Australia's combined capital cities are expected to rise between 6 and 9 per cent this year, according to a new report from REA Group.
The PropTrack Property Market Outlook 2022 predicts that while growth will ease this year, after property prices added 23.8 per cent nationally in 2021, certain areas could continue to flourish.
"Last year was a bumper year for property prices in Australia. In 2022, we expect prices will continue to climb, but the rate of growth will slow," said PropTrack director of economic research Cameron Kusher.
"Brisbane and Hobart are expected to see the biggest price growth among the capital cities thanks to their low supply of stock for sale, heightened demand and relatively lower prices compared to Sydney and Melbourne."
REA Group predicted that prices would add 9 to 12 per cent in Hobart and 8 to 11 per cent in Brisbane. Both Adelaide and Canberra are expected to record growth of 6 to 9 per cent, while Darwin prices are believed to rise between 5 and 8 per cent.
Sydney and Melbourne are expected to lag behind most other capital cities with a forecast price rise of 4 to 7 per cent, only beating Perth with predicted growth of 3 to 6 per cent.
"Perth has shown a stronger slowdown in price growth already relative to other capital cities, while the more expensive property prices in Sydney and Melbourne may increasingly see demand move out of those cities and into more affordable housing markets," said Mr Kusher.
The report found that prices in regional housing markets had recorded price growth of 30 per cent in 2021, compared to 21.7 per cent for capital city markets.
Over the past year, price growth was strongest in Darwin (35.8 per cent), Hobart (34 per cent) and regional Tasmania (33.3 per cent) and weakest in Perth (9 per cent).
"The removal of COVID-19 restrictions means that buyers may be less likely to dedicate as much of their income to housing in the months and years to come. Some potential buyers may even decide that their current home is sufficient," noted Mr Kusher.
Increases to fixed-rate mortgages are also expected to impact borrowers alongside additional prudential measures.
"While the changes by APRA around credit availability have been mild to date, they are tightening credit availability and reducing borrowing capacities," Mr Kusher said.
"In turn, this will likely contribute to a slowing of demand for housing and means that prices won't rise as rapidly as they have over the past year."
Research from Domain recently revealed that Australia's median house price had surpassed $1 million.
Forward this article to a friend. Follow us on Linkedin. Join us on Facebook. Find us on Twitter for the latest updates