Try another search or check out these top posts
Invest
HSBC forecasts 2023 house price decline of up to 10%
The firm had previously predicted a modest rise for house prices next year.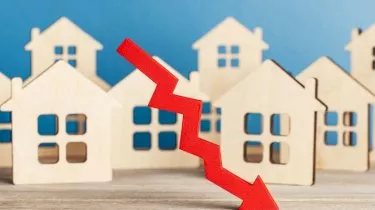 HSBC forecasts 2023 house price decline of up to 10%
As a result of higher than expected inflation and anticipated interest rate rises, HSBC has forecast that house prices will fall between 5 and 10 per cent during 2023.
The firm, which previously predicted house price growth of between 1 and 4 per cent next year, now expects that the Reserve Bank (RBA) will raise the cash rate to 1.35 per cent by the end of this year and to 1.85 per cent by mid next year, ultimately impacting house prices.
"We expect demand for housing in the regional and smaller cities to remain above pre-pandemic levels, as the pandemic means increased work from home is a part of the 'new normal'. This should support housing prices in these areas more than in the largest cities," said HSBC chief economist Paul Bloxham and economist Jamie Culling.
"We also expect the rental market to continue to tighten, lifting rents, as international migrants and students support demand, and housing investors seek rental return as capital gains diminish."
HSBC maintained its view that house prices would rise by 5 to 9 per cent on average in 2022 with falls predicted to begin in the second half of the year.
House price growth nationally has slowed to 1 per cent year-to-date, after rising by 26 per cent since the third quarter of 2020 and 21 per cent in 2021 alone.
"Australia's housing market has boomed through much of the pandemic period, supported by the sharp fall in interest rates to all-time lows and the forward guidance from the RBA suggesting that rates would stay low," the HSBC economists said.
"Supportive fiscal policy played a role too, by boosting household incomes, keeping workers attached to jobs through the wage subsidy scheme and direct measures to support housing construction."
After the house price-to-income ratio reached 5.0 per cent in 2021, the highest on record, HSBC said that the anticipated decline in prices would likely improve affordability.
Based on a GDP forecast of 3.5 per cent in 2022 and 2.8 per cent in 2023, the firm expects that the house price-to-income ratio would fall to 4.7 per cent at the end of 2022 and 4.1 per cent at the end of 2023.
Thanks to a strong jobs market, tight lending standards and mortgage buffers, HSBC said that the impact on household financial stress should be limited.
"Very few borrowers are highly vulnerable to changes in cash flow or expenses," HSBC said.
"Despite the risks to specific households, if our housing price forecasts eventuate, it is unlikely to hold large financial stability implications for Australia.
Forward this article to a friend. Follow us on Linkedin. Join us on Facebook. Find us on Twitter for the latest updates