Try another search or check out these top posts
Invest
House prices outstrip units by widest margin ever
There has never been a more expensive time to buy a house over a unit.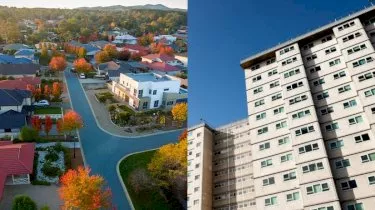 House prices outstrip units by widest margin ever
The gap between the value of houses and units reached a new high of 28.3 per cent in January, according to the latest data from CoreLogic.
The median value of houses nationally grew 24.8 per cent in the year to January, while units lagged behind significantly with a growth rate of 14.3 per cent.
"The annual performance gap between houses and units began to narrow in the final three months of last year, in part due to the lifting of lockdowns and border restrictions as well as increasing affordability constraints diverting demand towards the medium to high-density sector," said CoreLogic research analyst Kaytlin Ezzy.
"However, in January we saw that annual performance gap start to widen again, which could, in part, be explained by the disparity between advertised house and unit supply."
CoreLogic found that unit listings in the capital cities during January were down 3.7 per cent on a year earlier and 7.8 per cent below the five-year average.
In comparison, capital city house listings dropped by 12.5 per cent versus January 2021 and sank 32.7 per cent below the five-year average.
"Shortages in advertised listings throughout COVID has helped fuel value growth by creating a sense of urgency among buyers," Ms Ezzy said.
Despite the underperformance of units across Australia overall, CoreLogic identified outperformance in a number of specific cities and regions.
The growth of unit values in regional Tasmania (9.2 per cent), regional Victoria (5.7 per cent), Canberra (5.6 per cent) and Darwin (2.6 per cent) during the past three months outpaced the growth of house values in each market.
On a monthly basis, Adelaide recorded the largest increase in median unit value with a gain of 1.5 per cent, closely followed by a 1.4 per cent rise for Brisbane.
Meanwhile, unit values in Hobart recorded the largest annual gain of 32.8 per cent, ahead of the 26.3 per cent increase for house values in the city.
Ms Ezzy suggested that the unit market could be set to benefit from a number of tailwinds in the future as house prices in Sydney, Melbourne and Canberra remain above $1 million.
"It is likely affordability constraints will gradually pull some demand away from houses towards more affordable units and with international borders opening this month, Australia may gradually see a return to pre-COVID levels of migration," she said.
"As most migrants initially rent in Sydney or Melbourne this could help bolster rental demand in those markets hardest hit by the pandemic, which, in turn, could boost investor demand and ultimately, unit prices."
Forward this article to a friend. Follow us on Linkedin. Join us on Facebook. Find us on Twitter for the latest updates