Try another search or check out these top posts
5 reasons landlord insurance is a worthwhile investment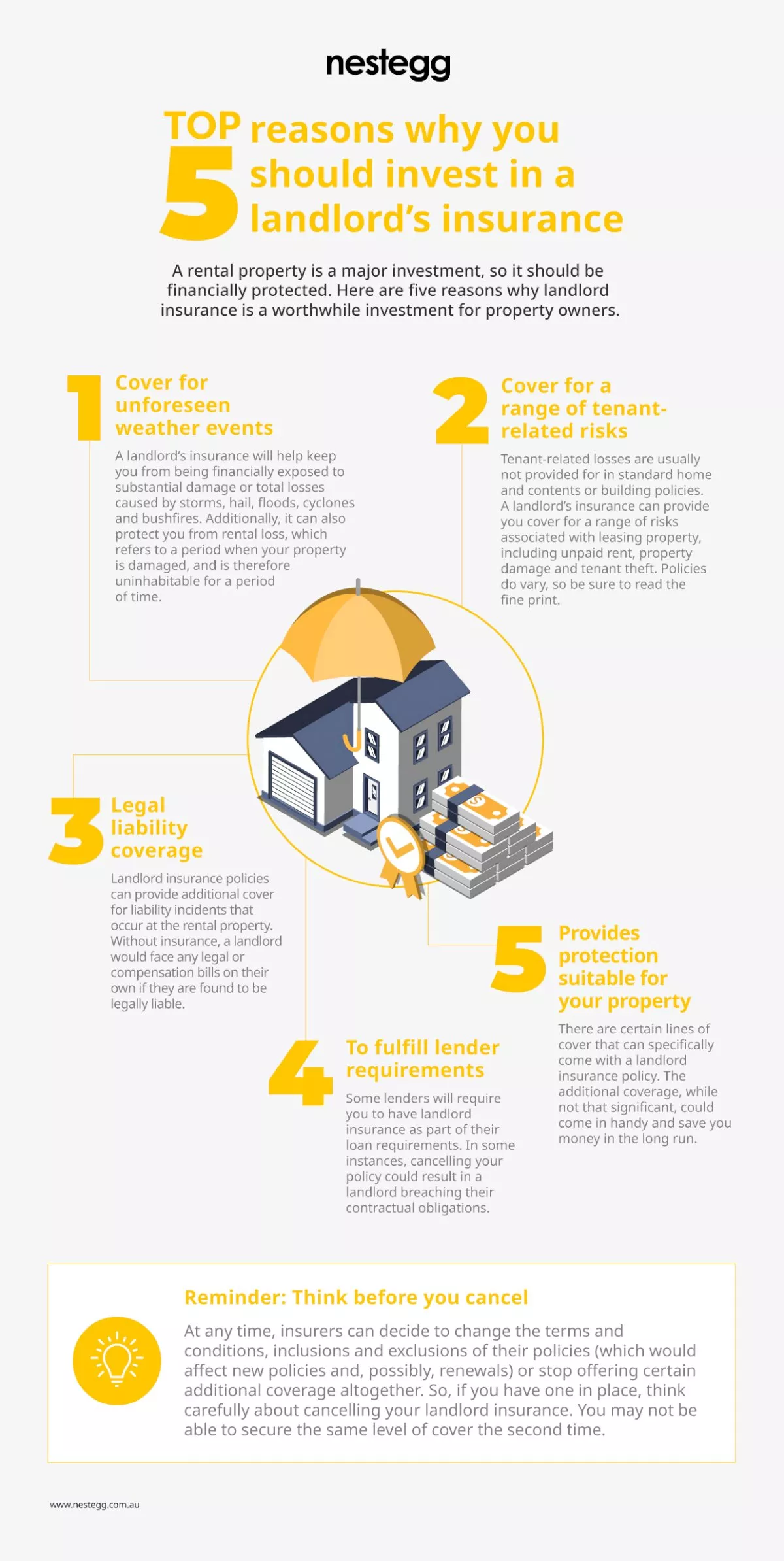 Click here to enlarge
In a blog post for nestegg's sister brand Smart Property Investment, EBM RentCover managing director Sharon Fox-Slater said a rental property is a major investment, so it should be financially protected.
"Owners who choose to forgo landlord insurance, or any kind of cover over the property, face a number of significant risks that could cost them dearly if the worse were to happen," she said.
Remembering that landlord insurance premiums are "generally tax deductible", here are five reasons she believes landlord insurance is a worthwhile investment for property owners:
Unforeseen weather events
"You never know when disaster may strike," Ms Fox-Slater said.
With damage caused by storms, hail, floods cyclones and bushfires a common property insurance claim, the director said insurance will safeguard landlord investments, especially as Australia segues into the disaster season.
"Property owners shouldn't run the risk of being financially exposed to substantial damage or total losses by being uninsured."
Cover for a range of risks
According to Ms Fox-Slater, around half of the claims against landlord insurance policies concern tenant-related matters such as lost rent, damage and tenant theft, with landlord cover usually protecting investors.
She has advised that tenant-related losses are usually not provided for in standard home and contents or building policies, while "in many cases, the bond that has been collected will not be enough to cover the expenses if a tenant (their guests or pets) damages the rental property and fails to make good on their obligation to repair the damage, or steals contents from the premises".
Legal liability
Another important feature of landlord insurance policies is legal liability cover.
"Landlords have a responsibility to provide a safe and liveable property for tenants and anyone else who visits the premises. This means they have to take care to avoid foreseeable harm to tenants or other visitors."
Ms Fox-Slater explained that without insurance, the landlord has no cover for liability incidents that occur at the rental, and would face any legal or compensation bills on their own.
To provide some context and insight, the director flagged that "the highest personal injury claim in Australia for one person was an eye-watering $19 million – and half of that was legal costs".
Condition of finance, mortgage or service
In some instances, a financial institution will require an investor obtain and maintain landlord insurance as a condition of the loan.
Many real estate agencies will also insist that cover be in place before they agree to enter into a management contract for the rental.
Ms Fox-Slater has warned that cancelling a policy could result in a landlord breaching their contractual obligations.
Insurers can cease offering cover at any time
In a COVID-19 impacted world, Ms Fox-Slater has cautioned owners against cancelling their policy, "as they may not be able to secure the same level of cover a second time".
She said that at any time, insurers can change terms and conditions, inclusions and exclusions of policies.
Forward this article to a friend. Follow us on Linkedin. Join us on Facebook. Find us on Twitter for the latest updates
About the author