Try another search or check out these top posts
Invest
Victoria enjoys a pre-holidays, post-lockdown spending spree
NSW's explosive growth in consumer spending is now spreading to other states.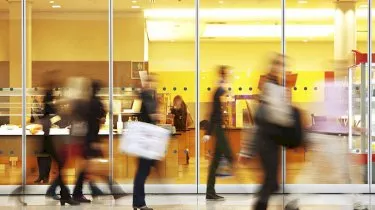 Victoria enjoys a pre-holidays, post-lockdown spending spree
The conclusion of lockdown restrictions in Victoria has seen consumer spending in the state surge.
According to new figures released by the Commonwealth Bank of Australia, Victoria's hairdressers and beauty salons were some of the biggest beneficiaries.

CBA merchant terminal data found that personal services businesses in the state experienced a 481 per cent increase in sales over their first post-lockdown weekend.

Hairdressers specifically garnered an increase of 700 per cent, while massage businesses and health beauty saw boosts of 556 per cent and 526 per cent, respectively.
Formal wear rentals were also a big winner, recording a 628 per cent increase in sales over the previous weekend.
"It's brilliant to see Victoria reopen and businesses and their customers enjoy some well-deserved spending, both small and big, to help build up to the Christmas and holiday period," CBA group executive for business banking Mike Vacy-Lyle said.
Victorian accommodation businesses had a more modest rebound of 26 per cent in increased turnover over the previous weekend, but Mr Vacy-Lyle said that this more or less aligned with the 23 per cent rise seen in NSW.
"With the NSW economy in its third week of opening and Victoria entering its first week, businesses in the holiday and recreational industry are seeing increased bookings," he said.
When it comes to credit card spending data, CBA found that national week-on-week spending for the period ending on 22 October rose 3 per cent.

Relative to the same week in 2019, the bank's figures represented an 18.6 per cent increase in consumer spending.

CBA chief economist Stephen Halmarick noted that Victoria's contributions to that upswing only included one day of activity, but added that the state had already been on an upward trend prior to the lifting of lockdown restrictions.

"A strong pick up is expected in upcoming data, with restrictions further easing from Friday including the opening of all retail stores," he predicted.
Mr Halmarick said that many of the sectors and industries that benefited from the loosening of restrictions in NSW were likely to find the same success with Victoria's reopening.
"Similar to the first week of the NSW reopening, the pick-up in spending in Victoria was driven by increased spending on personal care, recreation, and eating and drinking out," he said.
Like NSW, Mr Halmarick noted that the economic recovery of the ACT remains steady, with spending growth rising to 7.9 per cent above 2019 levels.

Elsewhere, he said that spending was more mixed with a three-day lockdown sending Tasmania's spending levels downward.

"Spending growth has remained robust in Queensland and South Australia but has edged a little lower in Western Australia, albeit from a high base," Mr Halmarick said.
Forward this article to a friend. Follow us on Linkedin. Join us on Facebook. Find us on Twitter for the latest updates
About the author