Try another search or check out these top posts
Invest
Banks hate DeFi now, but they'll learn to love it
Crypto experts remain convinced that DeFi is the next frontier for finance.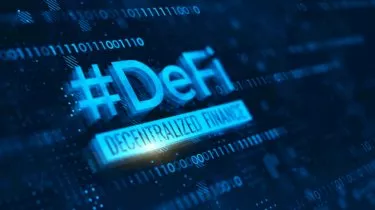 Banks hate DeFi now, but they'll learn to love it
While the persistent upward velocity of bitcoin suggests it isn't going anywhere anytime soon, some are already scouring the crypto landscape for the next big disruption.

Speaking to nestegg, eToro market analyst Josh Gilbert called decentralised finance one of the most promising sectors of the crypto asset market.
"The real intent with crypto assets is to provide a global, transparent, and accessible currency to all, and DeFi makes this possible," he explained.
Like the name suggests, decentralised finance (DeFi) is about offering financial products and services that are typically only available through the centralised world of traditional financial institutions.

More broadly, Mr Gilbert said that DeFi blockchain networks are shifting power away from traditional financial institutions and authorities.
"DeFi knows no boundaries, meaning it is not restricted by international borders and is free from most traditional constraints," he said.
According to Mr Gilbert, this absence of borders and other constraints to growth is a catalyst for the sector's acceleration in recent times.
"Tens of billions of dollars currently flow through DeFi applications every single day, and this is only accelerating due to the increase of mainstream uptake," he said.
Mr Gilbert said that smart contracts and DeFi can eliminate the need for banks and other financial institutions to act as middle-men for the financial activities of consumers.

"With DeFi, people can send money around the globe, take out a loan or an insurance policy, earn interest on their assets through staking, and operate smart contracts," he explained.
However, with this extra freedom comes added risk.
DeFi as the crypto economy's financial wild west
Mr Gilbert noted that DeFi's lack of limits leaves all responsibility in the hands of users.

"We are on a steep learning curve, and this can be daunting to some users, however, it's expected that we will continue to see more user-friendly experiences arise that will allow a greater mainstream adoption of DeFi and crypto in general," he predicted.
According to Aus Merchant managing director Mitchell Travers, one of the biggest misconceptions that people have about decentralised finance is that it's all linked to ethereum.

"Whilst a majority of the DeFi projects are built using ethereum, there are alternatives on other blockchains such as BSC, Polygon, Polkadot and Terra," he explained.
Speaking to nestegg, Mr Travers said that fears over hackers within the DeFi ecosystem are another aspect of the conversations that's blown out of proportion.
One report by ComplyAdvantage noted that DeFi hacks are on the rise, racking up a bill of around $994 million over the first six months of 2021.
However, Mr Travers said that simple narratives of digital thievery leaves out a few key details.

"For example, the Polygon hack was an exploit in the smart contract, which has since been remedied after the hacker provided a bug bounty on how to fix the vulnerabilities," he said.
While DeFi remains seen as the far frontier of the crypto economy's financial wild west by many, Mr Travers expects this perception to shift sooner rather than later.
"This will change as the cryptocurrency market matures and begins leveraging the advantages of DeFi in a more profound way," he said, adding that many of the investment strategies in DeFi are less exposed to market volatility than cryptocurrency traders are.
In time, Mr Travers even expects traditional finance to make a play in the space.
"I believe that once traditional financial firms realise that the returns with DeFi are eclipsing their own rates and it is possible to provide custodial access to DeFi there will be a trend for these firms to move into DeFi in a more profound way," he predicted.
Mr Travers expects this to be incremental, with the traditional finance operators gradually unwinding other investments in favor of decentralised finance.
"Once larger financial service providers begin to manage all of the technical and capital risk for clients and pass on the yield in a simplified 'savings' interface we will see larger volumes of capital entering the space," he said.
Forward this article to a friend. Follow us on Linkedin. Join us on Facebook. Find us on Twitter for the latest updates
About the author