Try another search or check out these top posts
We believe solid fundamentals and the ongoing search for income are supportive of high yield bonds. 
The snapback rally in high yield bonds since mid-February has some wondering if this market has gotten ahead of itself. 
We believe there is still opportunity for long-term investors looking for income, but caution against chasing recent performance.
US high yield bond indexes have posted a total return of about 13 per cent so far this year as oil and commodity prices have rebounded. Yields are currently in the 6 to 7 per cent range.
Credit spreads, or the difference between yields on high yield bonds and US Treasurys of similar duration, have narrowed in recent months. However, they are only slightly below their 20-year average, so high yield isn't overvalued based on historical levels. In fact, we still expect spreads to grind tighter in the near term.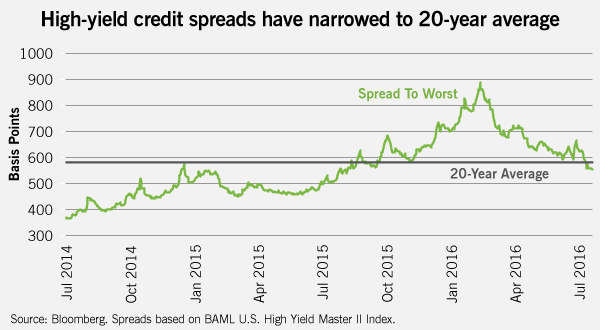 Based on our outlook, we think high yield could be attractive for income-seeking investors, although they should be prepared for some volatility and shouldn't expect recent performance to repeat.
Fundamentals: The fundamentals remain adequately healthy to be supportive of high yield, given the current spreads.
Default rates: High-yield default rates rose to 3.6 per cent in the second quarter of 2016 versus the long-term average of 3.9 per cent. Default risk is highly concentrated in the energy and metals/mining sectors due to concerns about commodity prices. The rate would be about 0.5 per cent without those sectors. Despite the relative health of the remainder of the asset class, we believe default rates will rise due to existing levels of distress in commodity-driven sectors. Oil prices could also remain depressed in coming years.
Supply/demand: Demand has rebounded in 2016 with retail (mutual fund) demand accounting for about $10 billion year-to-date. The much larger institutional market is more difficult to track, but we see evidence of strong institutional demand for high yield, particularly overseas where government bond yields are low or negative. Meanwhile, supply was down 19 per cent in the first half of 2016 and we expect that trend to continue in the second half of the year.
In summary, rising defaults, geopolitical risks, and concerns over global growth and commodity prices may cause volatility to rise. Still, for long-term investors, overall solid fundamentals and the ongoing search for income are supportive of high yield bonds.
Kelley Baccei, high yield portfolio manager, Eaton Vance.