Try another search or check out these top posts
Borrow
Millennials mull mortgage-sharing as house prices surge
Mortgage-sharing is in the midst of a resurgence.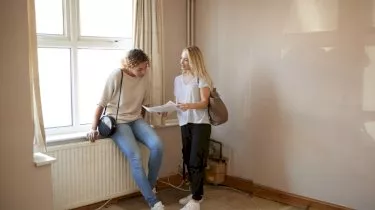 Millennials mull mortgage-sharing as house prices surge
With high growth in Australia's property sector refusing to budge, first home buyers are having to get creative about taking their first step onto the property ladder.
For some, that might involve rentvesting or fractional ownership schemes. For others, mortgage-sharing is their ticket into the housing market.
According to data recently published by the Commonwealth Bank of Australia, as much as a quarter of Australians have thought about buying property with a "non-traditional" partner such as a parent, sibling or friend.
Commonwealth Bank's executive general manager of home buying Dr Michael Baumann framed the issue as a response to the rising affordability issues in Australia's housing market.
"With growing challenges around housing affordability, it may be appealing to customers who are looking for new ways to be able to afford a property given the current market conditions," he said.
That being said, CBA's research also found that the vast majority of those surveyed harboured concerns about how mortgage-sharing could put a pre-existing relationship under additional strain or pressure.
Of course, mortgage-sharing is hardly a new phenomenon. CBA has offered its take on the formula – Property Share – for years.

The pros and cons of such financing arrangements are well-documented. A shared mortgage can allow you to enter the market faster since you won't need such a large deposit as you would with a traditional mortgage.

However, like its counterparts, a shared mortgage is a long-term commitment. At a minimum, that means finding a mutually acceptable way of splitting both ownership of the property and the ongoing costs associated with it.

Taking on a shared mortgage with a close friend or relative can be a smart financial gamble, while also being a fraught personal one.

Now, fintech companies like Proppie are looking to make mortgage-sharing with a stranger a little more palatable. 
These mortgage-sharing platforms match users based on their budget, property location and preference when it comes to the cut of the overall investment.
Speaking to nestegg, Proppie founder Ayumi Uyeda said that surging property prices present a clear problem for those struggling with affordability.
"To me, property prices in Sydney were always pretty exorbitant and out of reach even 15-20 years ago," she said.
That being said, Ms Uyeda is quick to highlight the rise of a "sharing mindset" as a key difference between then and now.

"It's a lot more prominent now, and it lends itself to these sorts of options, which I think is why mortgage-sharing is probably taking off a bit more," she said.
For platforms like Proppie, matchmaking millennials who want to get into mortgage-sharing is only the first step.

The platform also puts buyers in touch with the buyer's agents, property managers and lawyers they need to go take the next one.

Even if Proppie isn't as big as something like Twitter or Facebook, it may well face many of the same problems around trust and safety as it grows in scale and popularity.

Asked how Proppie plans to approach potential actors on the platform, Ms Uyeda emphasised the role that identity verification plays in the process.

By verifying Proppie users and conducting a financial assessment ahead of time, she said that they could avoid having a loan be refused at the end of the process and prevent other mishaps.
"It's not like you can buy property with someone who you don't know because the way that it works with property purchase and the conveyancing [means that] all of those identity checks and verification have to happen anyway when you purchase.

"But what we do want to do is bring that earlier so that the profiles are a lot more transparent to all of the users," she explained.

As for what those looking to jump into mortgage-sharing should strive towards, Ms Uyeda said that it is important for everyone involved to be clear about their expectations.

You'll want – and need – clarity when it comes to who owns what, preferably in the form of a co-ownership agreement.

"As long as you've got a good contract up front and you've had the conversation, you almost never have to go back to the contract," she said.
Forward this article to a friend. Follow us on Linkedin. Join us on Facebook. Find us on Twitter for the latest updates
About the author