Australia's industrial and logistics sector has experienced increased occupier and investor demand over recent years, benefiting from Australia's strong population growth and specialisation of international trade.
Moreover, the sector will be relied upon to facilitate ongoing growth in online retailing. As a greater number of sales are transacted online, increased volumes of goods will be received, stored in warehouses and dispatched directly from distribution centres to us, the customer.
Just how does this growth impact the industrial property sector?
Here in Australia, online retail spending increased from $6.7 billion (2010) to $21.7 billion (2018)1, which as a percentage of total retail spending, equates to an increase from 2.6% to 6.9%. Looking forward, this is forecast to increase to 9.2% by 2024 – which would mirror the recorded rates in the United States (US) over the past four years. Growth in online spending in the US led to increased industrial rental growth and researchers anticipate the same trend in Australia.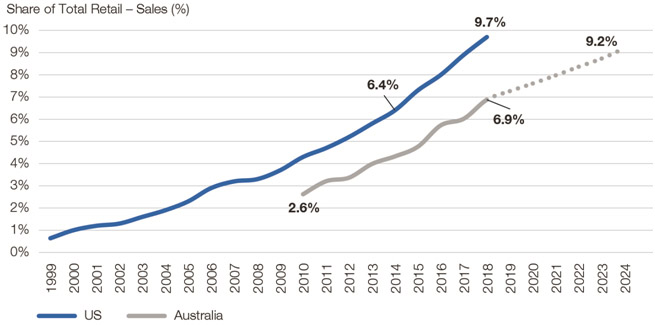 This continued growth means more goods will be stored and delivered to a broader range of locations, and more orders will be generated outside of traditional trading hours and retail premises. Consequently, more storage and distribution space will be required as retailers shift to non-linear supply chains.
Secondly, without the try-before-you-buy of traditional in store purchases, retailers need to consider effective strategies to process returns from customers. Larger industrial property spaces will be required to handle returned items and reduce the adverse impacts on operating margins.
Can you believe that in the US, more than two billion kilograms of landfill is created every year from returned items that are deemed too costly to process for resale2? It's an issue we don't tend to hear much about, but retailers are trying to create efficient solutions to streamline the returns process and minimise this issue.
Thirdly, online retailers will ultimately compete on the variety of goods offered, delivery time and price; all of which will be dependent on well-located and functional logistics spaces. A good example of this is successful online retailer Amazon, who stocks and distributes a significantly wider range of Stock Keeping Units (SKUs), which requires more industrial property space and diverse storage options.
With this increase in demand for logistics space, it's fair to wonder how the sector will keep up in terms of supply.
Charter Hall researchers noted that between 2015-2018 national industrial property leasing volumes averaged 2.59 million sqm p.a., above the 10-year annual average of 2.17 million sqm. However, supply hasn't risen to the same extent. New industrial supply has been broadly in line with longer-term averages - approximately 1.5 million sqm p.a. over the same period.
Part of this supply and demand imbalance is due to a growing scarcity of development stock. The supply of industrial land has been limited, while significant stock of industrial land was rezoned for alternate uses, including residential. This imbalance is reflected by a notable rise in rents and industrial land values. National prime industrial rental growth at 1Q19 reached the highest level since mid-2011. Similarly, annual land value growth reached 60% in Melbourne in 2018 and 50% in Sydney in 2017; some of the highest levels ever recorded. This will likely increase the costs of new industrial developments and translate into further rental growth moving forward. Higher rental growth will ultimately translate into higher distributions to investors in industrial property funds.
Substantial infrastructure development activity will also have a profound positive impact on the sector, unlocking new markets and increasing the underlying value of industrial space.
Australia's logistics and industrial property sector is experiencing a broad-based increase in demand from both investors and occupiers. Strong population growth combined with demand-supply imbalances and a shift in consumption patterns towards online retailing are driving significant rental growth and appreciation in land values for the industrial and logistics property sector.
With many of these factors yet to fully play out, I believe we'll see continued strong performance and growth in the sector. Investors can access quality industrial property through an investment in Charter Hall Direct Industrial Fund No.4, currently yielding 6.0% per annum income payable quarterly.*
* Yield based on actual distribution of 6.50 cpu (annualised) for the March 2019 quarter and a unit price of $1.07 (Ordinary Units) as at 1 April 2019. Distributions for future quarters may vary. To obtain current unit pricing visit www.charterhall.com.au/dif4
1 IBISWorld
2 CBRE – Supply chain impacts in 2019 & beyond