While the terms investing and trading are often used interchangeably, they do have very different meanings. Investing is the process of building a portfolio of assets that may include stocks, bonds, commodities, properties etc with the view to holding them for an extended period. Short-term price fluctuations of the market are ignored, based on the expectation for prices to continue higher in the long term, with interest and dividends cushioning declines and adding to overall returns.
Trading on the other hand, aims to take advantage of the short-term price fluctuations that are mostly ignored by the investment community. As a trader, the aim is to buy a security at a lower price and then to sell it at a higher price. Trading also enables profits to be made in falling markets, by short selling which involves selling at a higher price and buying back at a lower price.
Trading decisions usually come from one of two types of analysis. Fundamental Analysis, which investors are likely to already be incorporating into their investment allocation and decision-making process and the second is Technical Analysis.
In part II of this series, we discuss the use and benefits of Technical Analysis.
Technical Analysis is a vital tool of bank traders, hedge funds and Central Banks as well as corporates to manage risk and identify trade opportunities. As independent research house The Bank Credit Analyst noted in a special report, "A Guide to Currency Markets (Part II), Technical Analysis is the key tool used by traders to make short-term FX forecasts".
Technical Analysis is the use of charts to study the past price movements of tradable instruments to help anticipate what is likely to happen to prices in the future. It can be applied to any type of market including FX, bonds, commodities, futures, indices and stocks.
Every trader I worked with while part of the very successful Goldman Sachs Proprietary team in Sydney, relied on charts to a certain extent. We didn't all use charts in the same way which reinforces the idea there is more than one way to use charts in a trading strategy.
Price and "price action" is everything to a trader. It's the building block of Technical Analysis and all indicators including Moving Averages, Stochastics and Relative Strength indicators are a derivative of price data. Price and "price action" is displayed as historical price data plotted on a chart, most commonly as bar charts or as candlestick charts.
When analysing a market through the technical analysis lens the first thing to ask is what is the current direction of the market. Is the market in an uptrend or a downtrend? Or is it a directionless sideways market?
An uptrend can be defined as a market that is making higher highs and higher lows. Essentially prices are moving higher.

A downtrend is simply the reverse. The market is making lower lows and lower highs with the price of the security moving lower in time.

No trend or a sideways market is as the name suggests and best avoided for reasons outlined below.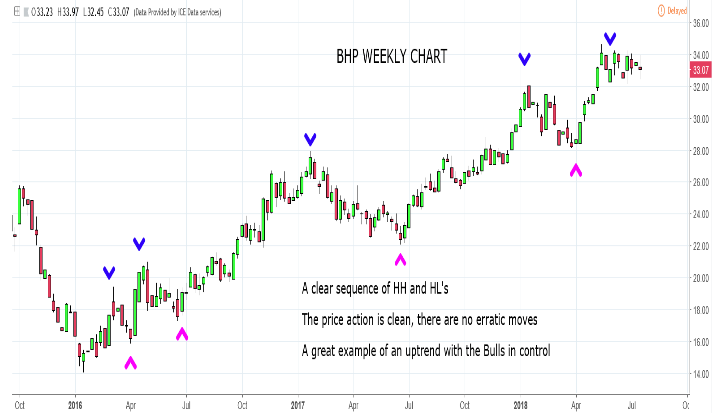 Source Tradingview. The figures stated are as of the 20th of July 2018. Past performance is not a reliable indicator of future performance. This report does not contain and is not to be taken as containing any financial product advice or financial product recommendation
For those new to trading with Technical Analysis, it's a good idea to make trades in the direction of the trend. Market "surprises" occur most frequently in the direction of the prevailing trend and trends also tend to last much longer than expected. If your trade is in the direction of the trend, the markets momentum is behind you and your trade.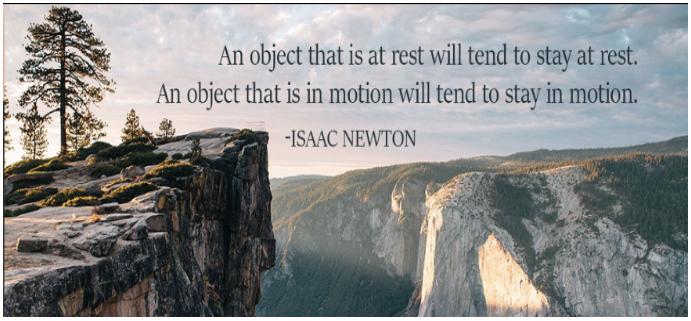 If you are interested in learning more about Technical Analysis, City Index offer trader development Technical Analysis courses, both foundational and advanced through TECHFX TRADERS. To find out more about these courses visit www.cityindex.com.au/trading-courses/ Or alternatively, contact the City Index New Accounts team on1800 910 228 or via This email address is being protected from spambots. You need JavaScript enabled to view it..
TECH-FX TRADING PTY LTD (ACN 617 797 645) is an Authorised Representative (001255203) of JB Alpha Ltd (ABN 76 131 376 415) which holds an Australian Financial Services Licence (AFSL no. 327075)
Trading foreign exchange, futures and CFDs on margin carries a high level of risk and may not be suitable for all investors. The high degree of leverage can work against you as well as for you. Before deciding to invest in foreign exchange, futures or CFDs you should carefully consider your investment objectives, level of experience, and risk appetite. The possibility exists that you could sustain a loss in excess of your deposited funds and therefore you should not invest money that you cannot afford to lose. You should be aware of all the risks associated with foreign exchange, futures and CFD trading, and seek advice from an independent financial advisor if you have any doubts. It is important to note that past performance is not a reliable indicator of future performance.
Any advice provided is general advice only. It is important to note that:
The advice has been prepared without taking into account the client's objectives, financial situation or needs.

The client should therefore consider the appropriateness of the advice, in light of their own objectives, financial situation or needs, before following the advice.

If the advice relates to the acquisition or possible acquisition of a particular financial product, the client should obtain a copy of, and consider, the PDS for that product before making any decision.