In 2013, a team of financial and robotics experts who shared the same vision attempted to define robotics, automation and artificial intelligence as an investment theme by creating the world's first index in this space. They launched the ROBO Global® Robotics and Automation Index, a comprehensive, transparent and diversified benchmark which represents the whole robotics technology value chain. 5 years later, the Index is now being tracked by more than US3.8 billion in assets through a number of Exchange-Traded Funds (ETFs).
We have selected 5 stocks from the index to showcase how different businesses are riding on this megatrend.
The ROBO Global® Robotics and Automation Index was constructed as a well-diversified benchmark. The Index currently has 88 members with each stock weighted at no more than 2.5% (as of 29 January 2018). ETFS ROBO Global Robotics and Automation ETF (ASX Code: ROBO) tracks the Index to offer investors a simple and straight forward solution to capture the investment opportunity of this rising megatrend.
Our world is being transformed as a new wave of innovation, often technology-led, challenges every aspect of how we live and work. Driving these technological advancements is the unending quest for increased productivity. For investors this trend is creating new investment opportunities, offering exposure to potential growth strategies outside of traditional equity investments. To get a better understanding of the companies that make up these sectors we have selected 5 stocks in the ROBO Global® Index to showcase how these businesses are tied to the robotics and automation industry.

Novanta – Precision Surgery
Novanta is a US-based advanced technology supplier to medical and industrial markets and is included in the Healthcare sub-sector of the Index. Novanta has built leading positions in key robotics & automation technologies including photonics, precision motion and sensing (vision and RFID) for a variety of applications such as minimally invasive surgery, DNA sequencing, industrial robotics, warehouse automation and laser-based material processing.
The company's restructuring in recent years has left it with increased revenue exposure to Robotics & Automation markets.

Yaskawa – Industrial Robotics
Yaskawa is a Japanese company and the world's largest manufacturer of AC inverter drives, motion control, and robotics automation systems. Yaskawa delivers a wide variety of high-quality, innovative robotic technology solutions with its famous brand name "Motoman".
The strong demand for robotics products drove its operating profits to surge by more than 100% for the 6-month period ending September 2017, compared to the previous year.

GEA – Food and Beverage Processing
GEA is a leading provider of process technology and components for the food and beverage industry, headquartered in Germany. GEA ranks first or second globally in most of its activities, which consists primarily in providing automation equipment and services to the dairy farming and dairy processing industries, to the food and beverage processing industries as well as to a wide range of other process industries such as pharma and chemicals.
GEA is a primary beneficiary of the structural trends toward increased automation in the food & agriculture markets driven by demographics, rising food safety standards, and the relentless search for productivity.

Xilinx – Programmable Chips
Xilinx is a US-based company that started the first fabless manufacturing model in the semiconductor industry. It is best known for inventing the field-programmable gate array (FPGA). Along with its other products e.g. System on a chip (SoC) and 3-dimensional integrated circuits (3DIC), Xilinx is one of the enablers for the rapid development of robotics and artificial intelligence.
The applications of its products include machine learning, 5G wireless, Internet-of-Things (IoTs) and cloud computing.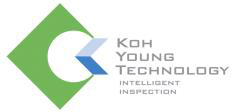 Koh Young – 3D Inspection
Koh Young is a Korean provider of 3D inspection and measurement equipment. Koh Young's technology is a key enabler of automation in electronics manufacturing and is in the early stages of adoption in machinery and medical applications. The company is the global leader in Solder Paste Inspection (SPI) tools and ranked second in the Automated Optical Inspection (AOI) tools. Koh Young is the world's only player with both commercial-grade 3D measurement technologies for SPI and AOI.
Since the inception of ROBO[1], Koh Young shares have delivered 55% return in AUD terms (as of 29 January 2018).
Note [1] ROBO's inception date is on 13 September 2017.
Product information
ETFS ROBO Global Robotics and Automation ETF download factsheet
Visit www.etfsecurities.com/robo-au
GET MORE INFORMATION
To find out more about ETF Securities products, visit www.etfsecurities.com.au