Try another search or check out these top posts
Resources
Which cryptocurrency should you invest in?
Promoted by Easy Crypto
In which crypto, out of the thousands of crypto coins and tokens available in the market, should you choose to put your money into? When is the best time to enter the market, and how much should you risk?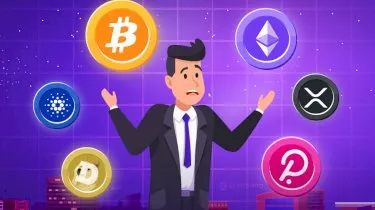 Which cryptocurrency should you invest in?
Promoted by Easy Crypto
In which crypto, out of the thousands of crypto coins and tokens available in the market, should you choose to put your money into? When is the best time to enter the market, and how much should you risk?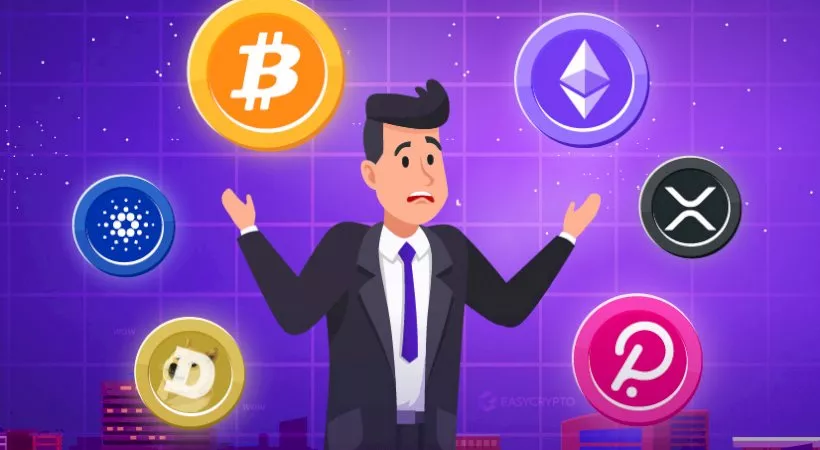 The investor's new problem: analysis paralysis 
For some people, the answer may be as clear as day; bitcoin being the obvious choice, as it is the dominant player in the space. After all, there are plenty of good reasons for bitcoin — it's the first cryptocurrency, it's backed by large institutions, it seems to have a wider adoption rate compared to other cryptos, it has a supply limit, which means in theory its price will be less likely to depreciate over time. 
However, when you dig deeper into the crypto ecosystem, you will come across more caveats and considerations. For example, you may point out that bitcoin is energy-intensive to produce, and you may find other cryptos that use alternative protocols — such as Cardano and Polkadot — to be more attractive and sustainable for future generations. 
Then you may explore the possibility of investing in smaller market cap coins, which have very promising potential use cases in decentralised financial systems, that are still cheap to accumulate, and have so much room to grow. Maybe 10x or 100x earnings is what you're going to be looking out for. 
It's common that after weeks of extensive research, you may be consumed with analysis paralysis. 
There is really no straightforward way to analyse cryptocurrencies 
Let's say you are dedicated to investing for the long-term; perhaps you religiously adopt the dollar-cost averaging strategy to investing. That means when and how much to invest are no longer your concern — you simply want to bet on the long-term implications of blockchain technology. You believe that fundamental analysis is the way to go. Fair enough. 
The problem is that there is really no standard way of analysing cryptocurrencies, at least not to the extent that stocks can be analysed. For comparison, when evaluating a company's shares, you look at how strong of a reputation that the company sits on (what Warren Buffet calls 'economic moat'). You also look at the quantitative data — P/E ratio, debt-to-earnings ratio, profit margins, and so on. 
A cryptocurrency is a decentralised medium of exchange. Decentralised — meaning that it's not going to care about angry stakeholders pressuring a non-existent board of directors. Medium of
exchange — meaning that it's technically money, with the expected functionality to be used in an economic network. 
Is market capitalisation a good indicator of the asset's potential longevity? 
It seems fair to think about the market capitalisation as a good fundamental indicator for currencies. After all, you want to invest in a cryptocurrency that most people will use, and the market capitalisation seems to reflect the number of people within the network or economy of that particular cryptocurrency. 
The more people are invested in the cryptocurrency, the harder it will be for it to lose value completely — think about the market cap of the major forex pairs, for example. 
Unfortunately, it's not as simple as that. 
On May 2021, the market cap chart lists Bitcoin (BTC), Ether (ETH), Binance Coin (BNB), Dogecoin (DOGE), Cardano (ADA), Tether (USDT), Ripple (XRP), Polkadot (DOT), Bitcoin Cash (BCH), Litecoin (LTC), Chainlink (LINK), and so on. 
The top 10 biggest cryptocurrencies by market cap now includes the highly speculative 'meme' crypto, Dogecoin, placing fourth on the leaderboard. Binance Coin is in third place because it is utilised specifically for trading on the Binance crypto exchange platform. 
Cardano as a network has not even reached its fullest potential. As of May, Ripple is still in the middle of a legal battle with the US Securities Exchange Commission. Most of the networks, with the exception of Cardano, are heavily oriented towards financial applications, missing out on many industrial applications. 
We just have to accept that the crypto market is currently a mix of disruptive proven technology with a healthy dose of speculation. However, a true leader will eventually emerge, which will offer the best features that accommodate the world's legacy financial and business infrastructures. 
Project-driven fundamental analysis 
One possible approach to analyse a coin's fundamentals is to examine the activities of the foundation and/or development community that is involved in the crypto's roadmap. 
Both the Bitcoin and Ethereum networks are winning in this regard. There are strong communities that are backing up the blockchain networks, and for very good reasons too.
Many decentralised financial (DeFi) projects have long established themselves on Ethereum, and quite recently, even financial institutions are using the blockchain as a secure way to distribute traditional securities such as bonds. 
Use cases for Ethereum are just beginning to diversify, with the booming of NFT marketplaces, that also coincides with the rise of online content streaming. 
The Bitcoin community is also working on a Layer 2 protocol, which can allow the Bitcoin network to have nearly the same functionality as Ethereum, with smart contract functionality. This is a great addition on top of Bitcoin's strong reputation as a simple but secure model of P2P transfer network. 
The Cardano network has demonstrated its involvement in various industry applications, not just DeFi. For example, BeefChain and New Balance are making use of Cardano's blockchain to make their supply chain more transparent. Blockchain-based tamper-proof academic records are also in the making as Cardano's founders collaborated with the Ethiopian government in April 2021. 
Other coin ideas to get you started 
At Easy Crypto, we supply 100+ cryptocurrencies that already show great potential, cutting the work for you. You might want to check out these coins — THETA, VET, SOL, TRON, EOS, LINK. 
We think they are worth your time invested in your research. Having done that, you're very welcome to buy cryptocurrencies easily and securely at Australia's best non-custodial exchange.
Forward this article to a friend. Follow us on Linkedin. Join us on Facebook. Find us on Twitter for the latest updates