Try another search or check out these top posts
Promoted by ETF Securities.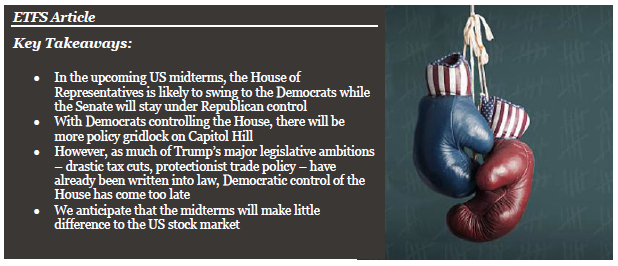 Introduction
The American travel writer Bill Bryson once said that Australians prefer talking about US politics to their own. On his visits down under, Bryson would find himself inundated with Aussies wanting to discuss the ongoings on Capitol Hill – yet rarely as willing to discuss what's happening in Canberra.
This matters, of course, because its politics time in the US – with crucial midterm elections approaching – and Australians are, once again, tuning in.
Most midterm elections are passed with minimal fanfare, but this year's midterms are unusually significant because control of both the House of Representatives and the Senate are at stake. While Trump may complain about how tough his job is, up until now he has operated in an easy legislative environment. With Republicans controlling the Supreme Court, the Senate and the House of Representatives – Trump has had an easy time pushing through his agenda.
Yet polls suggest time may be up on this. Five Thirty Eight, arguably the world's most influential polling website, puts the likelihood of Democrat victory in the House at 6 out of 7. (Yet the likelihood of the Democrats winning the Senate has the same odds – but going the other way.) Below we take a look at what the swing might mean for US economic policy and the US stock market.
The likely consequences
Democrats gain subpoena power, meaning Trump may be investigated
If Democrats control the House, it is likely that they will push for Trump's impeachment or at the very least kick off investigations into the Trump's personal and business affairs. Winning the House means that the Democrats would win subpoena power. This would enable Democrats to investigate Trump's alleged connections with Russia, alleged questionable business ties and alleged sexual
assaults more aggressively.
It is highly unlikely that control over the House would enable the Democrats to impeach Trump (impeachment requires supermajority approval in the Senate, which Democrats would not get). Even if these investigations do not expose any wrongdoing and all impeachment attempts fail, the information that these investigations can unearth can be highly damaging. For example, Hilary Clinton's 2016 presidential campaign was dealt heavy damage by the email scandal that was thrown up as a result of Republican subpoenas on the 2012 Benghazi attacks.
Democrats gain veto power, meaning fewer tax cuts
Democrats would also gain veto power over legislation if they take control of the House. This would mean Trump would struggle to push through the more right-wing elements of the Republican agenda – such as repealing Obamacare, steep tax cuts for the rich, cuts to welfare and food stamps, and sweeping environmental deregulation. Trumps controversial Tax Cuts and Jobs Act of 2017, which cut corporate taxes from 35% down to 20%, was pushed through thanks to Republican control of the House. Since all new tax laws must be approved by congress, if the Democrats control the House, any future radical tax proposals will require compromise.
Local elections will give Democrats more attorney generals
While much of the headline coverage has focussed on control of Congress, state governors' mansions are also up for grabs in these midterms. At the time of writing Republicans currently control twothirds (33 out of 50) governors' mansions. If some of these swing in the current elections, as seems likely, Democrats will gain more attorney general's offices, which would further their subpoena power over Trump's business activities in each state.
Conclusions: the elections won't change much
With these likely changes in place, what might it mean for the US stock market? Not much, we'd argue.
The general consensus among analysts appears to be that Wall St has already 'priced in' Democrats reclaiming the House 1 – only there is not much important information to be price in. 2 For most Wall St analysts the more important concerns for investors are earnings and the Fed. As Morgan Stanley's equity analysts put things: "In 2016 and 2017, investors were well served to ignore the political volatility and focus on the fundamentals… We think the same will be true of 2018 midterms." 3 While more gridlock on Capitol Hill will likely result, gridlock is nothing new; in fact it was more or less a permanent feature of the Obama administration.
Making matters more straightforward, much of the consequential legislation that Trump had proposed in his election campaign, such as the sweeping corporate tax cuts and protectionist trade policy, has already been written into law. Indeed, Republican strategy appears to have been to push through the more controversial legislation early in Trump's term, in knowledge that control of Congress would be under contention in mid-2018.
Forward this article to a friend. Follow us on Linkedin. Join us on Facebook. Find us on Twitter for the latest updates
About the author
Join The Nest Egg community
We Translate Complicated Financial Jargon Into Easy-To-Understand Information For Australians
Your email address will be shared with nestegg and subject to our Privacy Policy