Try another search or check out these top posts
Promoted by ETF Securities.

Aussies love bargains – and ETF providers are happy to oblige.

The average fees Australian investors wear on ETFs has been trending down the past five years, as investor demand for lower fee products is met with open arms by ETF providers.

As of January 2018, the asset-weighted average fee worn by Australians investing in ETFs sat at a mere 27 basis points, down from 31bps in 2013. This means that for every $1,000 invested in an ETF, investors pay a mere $2.70 in fees – less than what they pay for their morning coffee.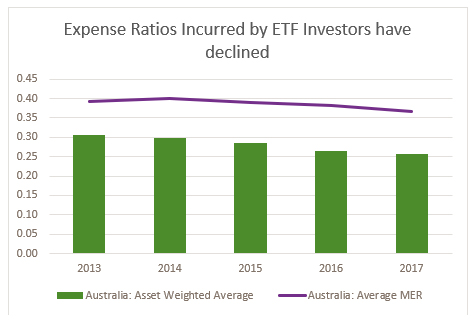 Source: ASX
The trend bodes well for investors as it allows them to keep more of the returns their money earns. It also bodes well for passive investing generally, which is well positioned to continue under-pricing active management. The average fee charged by active Aussie fund managers sits at around 1%, data from Canstar indicates, which is almost three times the average cost charged by ETFs.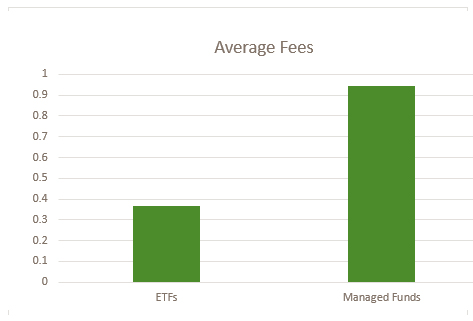 Source: Canstar, ASX
Leading the downward charge in ETF fees is the increasingly intense competition among ETF providers – particularly in the plain vanilla space. The dive has also been driven by supply chain pressures, particularly pressures on index providers, to cut their fees. These supply chain savings are then being passed on to investors.
Downwardly spiralling ETF fees are not unique to Australia. In the US, where the ETF market is more established, the asset weighted average fee now sits a at 21 basis points, data from the Investment Company Institute indicates. To judge by the current trend-line, it could only be a matter of time before the Australian market hits similar lows.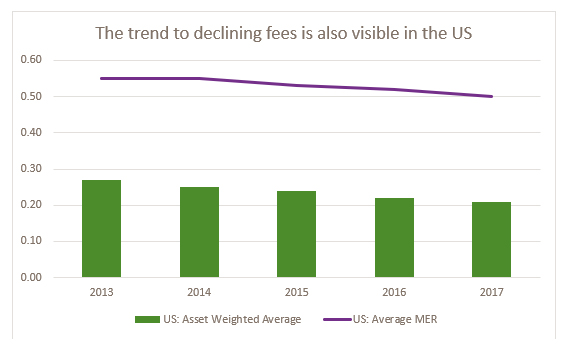 Source: Investment Company Institute 
What do these cost benefits look like in practice? Well, they include low cost exposure to cutting edge technology. ETFS ROBO Global Robotics and Automation ETF (ROBO), for example, provides Aussies with the world's cheapest exposure to the famous ROBO Global index. For a mere 69 basis points, ROBO gives investors the chance to gain from the wave of innovation currently underway in robotics and artificial intelligence. 
Similarly, any investor interested in Europe's bluest of blue chips could keep in mind the ETFS EURO STOXX 50 ETF (ESTX), which provides some of the cheapest exposure to the renowned EURO STOXX 50 index available outside of Europe itself. At 35 basis points, ESTX charges $3.50 on any $1,000 invested – bang on the price of a cup of coffee.
ETFS ROBO Global Robotics and Automation ETF Factsheet
ETFS EURO STOXX 50 ETF Factsheet
This document is communicated by ETFS Management (AUS) Limited (Australian Financial Services Licence Number 466778) ("ETFS"). This document may not be reproduced, distributed or published by any recipient for any purpose. Under no circumstances is this document to be used or considered as an offer to sell, or a solicitation of an offer to buy, any securities, investments or other financial instruments and any investments should only be made on the basis of the relevant product disclosure statement which should be considered by any potential investor including any risks identified therein.
This document does not take into account your personal needs and financial circumstances. You should seek independent financial, legal, tax and other relevant advice having regard to your particular circumstances. Although we use reasonable efforts to obtain reliable, comprehensive information, we make no representation and give no warranty that it is accurate or complete.
Investments in any product issued by ETFS are subject to investment risk, including possible delays in repayment and loss of income and principal invested. Neither ETFS, ETFS Capital Limited nor any other member of the ETFS Capital Group guarantees the performance of any products issued by ETFS or the repayment of capital or any particular rate of return therefrom.
The value or return of an investment will fluctuate and investor may lose some or all of their investment. Past performance is not an indication of future performance.
Forward this article to a friend. Follow us on Linkedin. Join us on Facebook. Find us on Twitter for the latest updates
Join The Nest Egg community
We Translate Complicated Financial Jargon Into Easy-To-Understand Information For Australians
Your email address will be shared with nestegg and subject to our Privacy Policy
Join The Nest Egg community
We Translate Complicated Financial Jargon Into Easy-To-Understand Information For Australians
Your email address will be shared with nestegg and subject to our Privacy Policy