Try another search or check out these top posts
Promoted by ETF Securities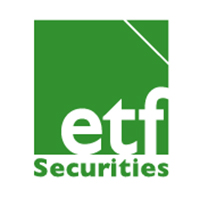 Infrastructure investments are popular because of their ability to provide high, consistent yields with low volatility through different stages of the business cycle.
Trade idea – ETFS Global Core Infrastructure ETF (CORE)
Key Takeaways:
Infrastructure investments are popular because of their ability to provide high, consistent yields with low volatility through different stages of the business cycle.
With US and global interest rates likely to be rising over the coming years, we look at the impact on infrastructure assets and why they may continue to perform strongly.
With the likelihood of rising interest rates some would argue that infrastructure has already had its run. Here's why we believe that our new ETFS Global Core Infrastructure ETF (CORE.AXW) is still a strong proposition.
Infrastructure equities are often viewed as an asset class in their own right due to their unique characteristics; they are companies, but are often protected from competition by government regulations or other barriers to entry and they generally produce stable, reliable income from investments in fixed assets. They tend to pay above average dividends and are often isolated from much of the variability seen in the rest of the equity markets.
Infrastructure investing has become increasingly popular in recent years as the hunt for yield in a low global interest rate environment has led investors to look further afield than traditional fixed income investments.
The temptation to make comparisons between infrastructure equities and bonds is strong, but caution should be urged. In particular the belief that infrastructure equities, like bonds, should underperform in a rising interest rate environment can be bought into question, for a few good reasons which we discuss below;
1. Choice of Valuation Model
Under a discounted cash flow ("DCF") model, high income securities should have lower fair values when a higher discount rate is applied. This is standard fare in the fixed income world, where yields and prices always move in opposite directions.
However the DCF model is not always suitable for determining the intrinsic value of infrastructure securities in the same way. Its reliability depends on how predictable the cash flows from the investment are. Some infrastructure companies, unlike bonds, often have profitability tied to economic growth, have revenue indexed to inflation or have strong pricing power due to highly inelastic demand for their services. All of these factors allow for the possibility of less certain cash flows than are assumed in a standard DCF valuation model.
Some examples of infrastructure with cash flows that are less predictable and more tied to economic growth are transportation companies, airports and logistics companies.
2. Financial Leverage
Companies with higher financial leverage should be more sensitive to interest rate movements as their liabilities are directly linked to the level of interest rates. Higher interest rates drag earnings down and lower the companies' fair value. Table 1 below shows the financial leverage, measured by total debt-to-equity, of core infrastructure equities (1x) is actually lower than that of the MSCI World (1.5x) meaning that the interest rate sensitivity of infrastructure companies should be lower than for other sectors, on average.

3. Historical Performance
Chart 1 shows the long term performance of the Solactive Global Core Infrastructure Low Volatility Index and MSCI World against the U.S. Fed funds target rate. Chart 2 and Table 2 compare their performances over the period since the start of the current U.S. rate hike cycle from 15 Dec 2015. Despite the recent underperformance attributed to the sold-off of power generation infrastructures when oil price continued to rise and lowered their profit margins, the Solactive Global Core Infrastructure Index had majority of the period outperforming the MSCI World.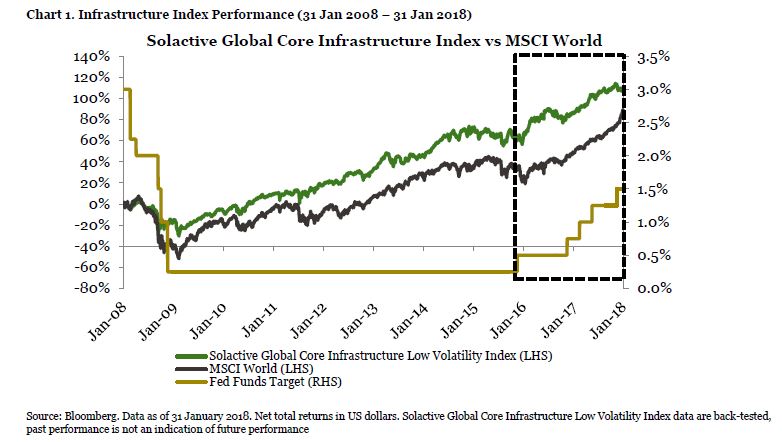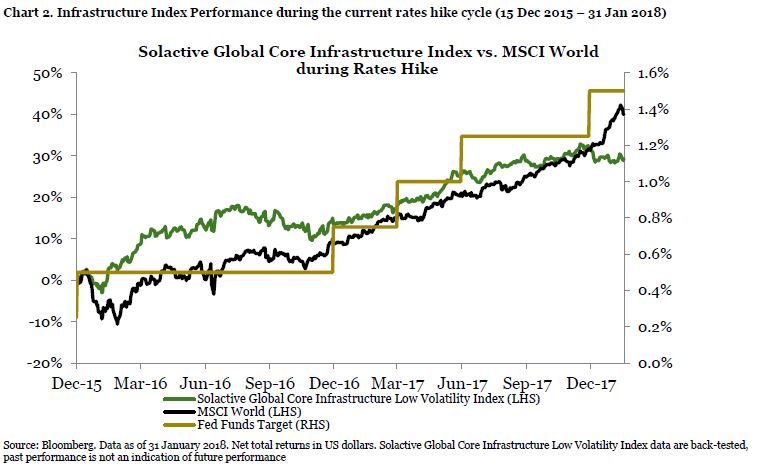 4. Infrastructure as an Alternative Yield Play
If the U.S. interest rate hikes continue and cause significant outflows from the bond market, how can investors achieve good yield with lower interest rate risk? Infrastructure equities could provide a good alternative.
GET MORE INFORMATION
To sign up for future ETFS Trade ideas, email This email address is being protected from spambots. You need JavaScript enabled to view it.
To find out more about ETF Securities products, visit www.etfsecurities.com.au
Forward this article to a friend. Follow us on Linkedin. Join us on Facebook. Find us on Twitter for the latest updates
About the author
Join The Nest Egg community
We Translate Complicated Financial Jargon Into Easy-To-Understand Information For Australians
Your email address will be shared with nestegg and subject to our Privacy Policy