Try another search or check out these top posts
IPOs are often a favoured choice for Australian investors given their generally good prospects and often underweight prices, but small IPOs perform even better than the wider market, according to recent research.
Smaller initial public offerings easily outperformed on the ASX in 2016 and could continue to outperform, while floats delivered overall better returns than the broader share market, a fact that investors keen to diversify their portfolios should be aware of.
IPOs are why the share market was created in the first place. These events mark the first time that companies make their shares available to the public. Once they're listed on the share market, of course, anyone can buy and sell but what is potentially lucrative is getting an allocation in the IPO before the shares list. Just look at the numbers.
IPOs returned an average of 25.4 per cent in 2016, more than triple the 7.5 per cent delivered by the benchmark S&P/ASX 200 index, according to the OnMarket 2016 IPO Report released this week. Floats raising less than $50 million delivered the best results, returning 32.2 per cent, while those issuing more than $50 million returned 14.7 per cent.
While the conventional wisdom may say, 'the larger the company, the safer the investment', company floats of less than $50 million were the clear winners last year, gaining an average of 32.2 per cent by the year's end.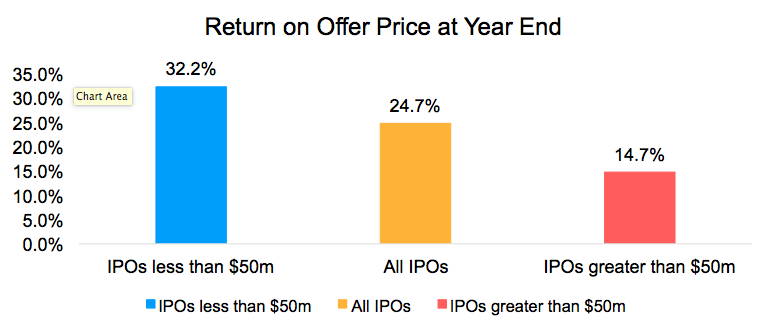 Why is it that smaller IPOs are undervalued when they float? Perhaps it is due to the paucity of institutional funds for microcaps, companies need to under-price in order to attract retail investors. Or perhaps it is that a higher return is needed to offset the higher risk of companies seeking growth capital.
Having said that, not all IPOs take off in a way that makes the category a sure-fire for investors, but it's safe to say that there isn't a category that is. Either way, a portfolio approach to IPO investments takes out much of the risk and is more inviting in return terms than either blue chip equities or fixed interest offerings.
The outlook for the IPO market in 2017 is bright, given the strong opening to equity markets and the large number of IPOs that were deferred from late 2016.
If the commodity rally continues, the number of resource-based IPOs could pick up after a few lean years. We also expect that more listed investment companies will come to market in 2017 after a strong 2016, where investors took advantage of their comparatively low cost for diversification.
Among different sectors, the OnMarket 2016 IPO Report reveals that IT floats were the best performers, with an average gain of 70 per cent by year end. Other strongly performing sectors were consumer staples (up 37 per cent) and healthcare (up 24.2 per cent).
Some surprising non-performing floats were financials, down an average 8.1 per cent in 2016, barely ahead of energy floats, which fell on average 10 per cent, the report found.
I'm not suggesting that all investor portfolios should solely consist of IPOs but rather, that a percentage of any well-diversified portfolio should include an allocation to this asset class, which has the potential for impressive capital growth. IPOs have often been difficult for retail investors and SMSFs to access, despite their strong track record of average performance. But technology and the OnMarket IPO platform is making it easier to get a piece of the action.
Ben Bucknell, founder and CEO, OnMarket BookBuilds
Forward this article to a friend. Follow us on Linkedin. Join us on Facebook. Find us on Twitter for the latest updates
Join the nestegg community
We Translate Complicated Financial Jargon Into Easy-To-Understand Information For Australians
Your email address will be shared with nestegg and subject to our Privacy Policy
Join The Nest Egg community
We Translate Complicated Financial Jargon Into Easy-To-Understand Information For Australians
Your email address will be shared with nestegg and subject to our Privacy Policy