Try another search or check out these top posts
Invest
Houses v Apartment: Which is the better investment?
Here are the top things to keep in mind when choosing an apartment versus a house for an investment. 
Houses v Apartment: Which is the better investment?
Here are the top things to keep in mind when choosing an apartment versus a house for an investment. 
It's the age-old question – is it better to invest in an apartment or in a house? 
If you are an investor thinking about buying a residential investment property, there will come to a point when you need to decide what type of property you will purchase.
It's a difficult decision, as different investors have different needs. You, as an individual, need to decide what type of property works for you and your investment strategy and what does not.
In this article, we lay out the pros and cons of both asset types that could help make the decision easier for property investors.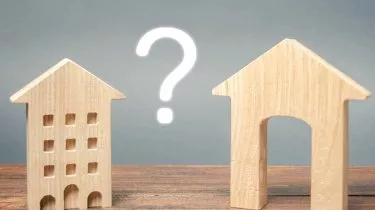 Pros and cons of investing in a house
Detached homes can be a good investment for investors who are in it for the long haul. 
Oftentimes, investors buy residential houses for their portfolios in order to renovate them or wait for their value to grow before selling them for a profit in the future. Naturally, holding a property can take time; it can take several years before the real estate sees significant capital growth.
So while investing in a house may offer capital growth, it can also come with its own set of drawbacks. Here are some of the major pros and cons.
Pros of investing in a house
Capital growth
Generally, houses usually offer greater long-term capital growth than apartments because land appreciates in value over time. Additionally, houses tend to have more associated land compared to apartments. 
But it's important to note that there are some exceptions. For example, a block of land located out in the middle of a sparsely populated area like the Kimberley is unlikely to be more valuable than the square footage of a one-bedroom apartment in Bondi or in the heart of any CBD. That's why it's always important to consider location and market conditions when investing.
Flexibility to renovate
Houses give property owners greater control over renovations than apartments because you are not required to secure approval of the body corporate in order to do any works. 
Since you control 100 per cent of the property if you are a sole investor for a house, you can go ahead and make strategic improvements to increase its value.  Investors have the opportunity to sub-divide or build an extension, subject to council approval.  
Consistent rental returns
People who rent a house are more likely to sign a long-term contract, thus assuring you a stable rental income for an extended period.
This is because, generally, houses attract families and couples who are typically more reliable when it comes to paying rent and will likely stay for a longer period of time in a certain suburb for schooling or work. 
Pet-owning tenants also tend to prefer renting a house over an apartment due to the yard space and the added flexibility in the lease terms. On the contrary, body corporate by-laws for apartments can restrict or limit pet ownership by not allowing potential tenants or owners to have pets, or setting weight limits on dogs. 
Data shows that, on average, renters with pets have longer tenancy than those without pets, probably because it can be difficult to find pet-friendly rental housing.
No body corporate fees
Since you own the entire house, you do not have to pay any common ground fees, such as body corporate fees. 
Historically higher rate of growth in value 
Investment houses typically have a more consistent and higher resale value than apartments. Over the last few years, houses have generally outperformed apartments in Australia's major cities. This also translates into potentially higher resale value compared to apartments. 
Cons of investing in a house
Houses are more expensive than apartments 
Houses are typically more expensive than apartments and units in the same area because of the land value. This can be a deterrent for some buyers who are looking to enter the market, including first-time property investors or anyone looking to diversify their investment portfolio.
Lower rental yield 
Rental yield refers to income produced by investment property compared to its purchase price, as a percentage. As a rule of thumb, houses can have a lower rental yield than apartments and units, even though they usually have greater capital growth. 
If you are an investor who prioritises rental income for cash flow than capital growth, you may want to keep this in mind when choosing an investment property.
Maintenance and upkeep costs
When it comes to houses, the owner will need to shoulder all the maintenance and upkeep costs, as well as insurance premiums if they have chosen to take out a policy. 
The owner will also be responsible for the expenses that go into building and pest inspections before buying the property to make sure there aren't any underlying problems.
Investing in an apartment
Buying an apartment as an investment property has its own set of pros and cons. Here are some that are worth looking into. 
Pros of investing in an apartment
Affordable to buy as an investment
One of the major upsides of buying an apartment is how units are generally more affordable compared to houses, making them a strategic entry point into the real estate market. This is especially advantageous for investors who are just starting out or those who have a budget that is on the smaller side. 
If your heart is set on buying in an area that is near any major city, apartments are a more affordable option than buying a house in the same suburb. The lower initial payment can also mean fewer risks and more investment choices for you. 
Shared upkeep costs
Unlike when you own a house, an apartment's maintenance, insurance and upkeep costs are split among everyone in the building or complex through a strata title. An owners' corporation (also known as a body corporate) will oversee and maintain the common areas in strata-titled properties and charge body corporate fees.
However, it's important to note that not all costs are covered by body corporate. Apartment owners are still required to pay contents insurance, council rates, as well as repairs and maintenance for your individual unit and utilities. 
Easier to manage 
Unlike houses, apartments usually have a smaller land coverage, which means less work for you as an owner. You will be spared from chores such as repainting the gutters and fences or mowing the lawn. With apartments generally smaller in size, it will also take less time to clean. 
Projected higher demand 
While family households are still prominent in Australia, there is an observed increase in single- and two-person households over the years. The Australian Bureau of Statistics (ABS) data estimates lone-person households will rise from 25 per cent (2.3 million) to 24-27 per cent (between 3 to 3.5 million) households from 2016 to 2041.
According to the latest ABS household income and wealth data, lone-person households and single-parent families with dependent children are more likely to have low-income, and low-wealth households are less likely to own property. 
The most recent data from CoreLogic also observed that the demand for rental units is now increasing as houses become more out of reach for home buyers as property prices across the country continue to skyrocket. 
If smaller Australian households choose to rent rather than own a property, there may be stronger renter demand, higher rental yields and more investment security for some apartment owners in the long term.
Potential for multiple assets
Depending on your budget and the average value of properties in a particular area, you could potentially purchase two apartments or units for the same price as one house. This could provide you with higher rental income, future flexibility and lower risk while also diversifying your investment portfolio at the same time.
Of course, this is not applicable to all cities, so make sure to check the latest property market trends to check if this is feasible. You can start by exploring Smart Property Investment's News Section, which features the latest property market reports and news, as well as relevant insights and strategies from experts.
Cons of apartment investments
Lower land value
Because apartments generally don't have much (or sometimes none at all) land, capital growth among units is lower compared to houses. This means that you may not cash in on a bigger profit when it comes time to sell an apartment over the same period of time as you would a house.
But of course, there are many factors that can still influence the long-term return from any property, such as location, comparable sales, property market trends, condition and property features.
Body corporate fees can be high
You may have noticed that body corp fees are both listed in the pros and cons. While paying ongoing body corporate fees removes having to organise and pay for some expenses, it can also be an expensive ongoing outlay.  
Apartment complexes that have lots of facilities such as a pool, gym, rooftop entertaining space, tennis court, sauna etc will have higher body corporate fees to maintain all these common areas.
Lack of control for alterations
As we have mentioned, owning an apartment means playing by the rules of the body corporate, so any major renovations to your property may need to be approved first. And because there is usually no land, you can't add on an extension like you could with a house. This lack of control can put limitations on maximising the value and use of the property.
Rising supply of apartments
There are always new apartments going up due to the increasing number of developments. If you own an existing apartment or unit in an oversupplied area, you could potentially see lower rental yield, less capital growth and less demand from prospective tenants because there's a wide number of options of apartments for them to choose from.
Apartment or house investment?
Really, there is no answer that will be correct for everyone. 
For most investors, the right choice is context-specific, as investing in an apartment or house will come down to your investment goals and financial situation, the housing demand and supply trends in the market, and the location of the property. 
It is advised to assess your goals and needs and research your target market in order to find the right investment for you. 
You should also consider consulting with industry experts with relevant experience and knowledge, such as real estate agents, accountants and seasoned property investors, before finalising your decision.
Forward this article to a friend. Follow us on Linkedin. Join us on Facebook. Find us on X for the latest updates