Try another search or check out these top posts
A property research house has released the median house price growth over the last 20 years, revealing the best and worst places to own property.
CoreLogic has revealed the top 25 winners and losers in the Australian property game over the last two decades, based on median house price growth.
The top ten, which includes Waverly and Liverpool in Sydney, have enjoyed median prices growing by double-digit annually for the last 20 years.
Inexplicably, it was Murrumbidgee in NSW's south-west that topped the list with a whopping 13 per cent growth per annum.
"I can't really explain why Murrumbidgee is the number one performer, although I think the main reason is that prices came off an extremely low base 20 years ago and the fact that during the late 1990s, there was a bit of a boom to that market," CoreLogic head of research Cameron Kusher said.
Melbourne was the clear winner, claiming six of the top ten areas, including the neighbouring areas of Monash, Whitehorse and Boroondara.
"I think ultimately it's because we haven't really seen a sustained downturn in the Melbourne housing market for the last 20 years, whereas even though Sydney is very strong at the moment, it and most other capital cities have seen a downturn for at least five years during this time," Mr Kusher said.
"Melbourne has been the most resilient housing market for the last two decades, not having had a sustained downturn since between 1991 and 1995 when it was coming out of the last recession."
Victoria was well-represented with 17 of the top 25 areas.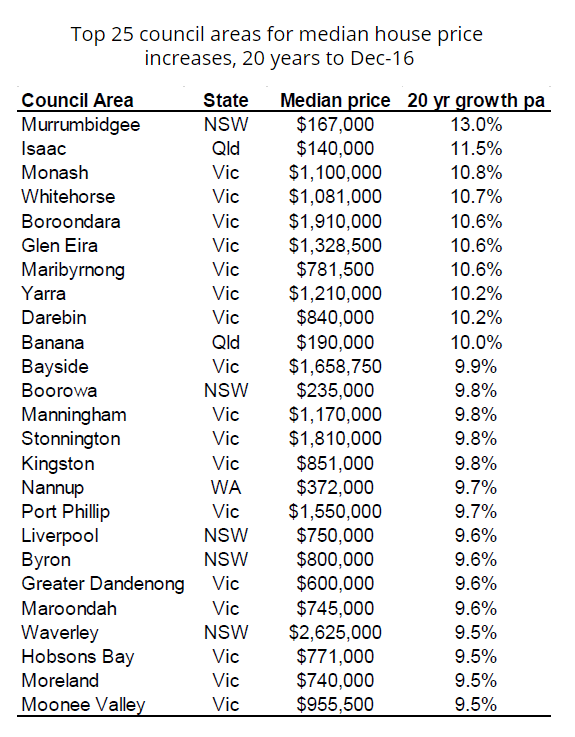 Source: CoreLogic
Meanwhile, the regions of Isaac and neighbouring Banana made up Queensland's representation in the top 10, despite both suffering recent mining slumps.
"Issac and those kind of areas have had a big downturn in the last five years but still we've seen prices come from virtually nowhere and there still much higher than they were 20 years ago," Mr Kusher said.
"When you look at the bottom of the list, you can see the effect of the mining boom as well, given the common theme is that most of the worst performers are mining or agricultural areas linked to one or two industries."
It was no surprise that Western Australia, Queensland and South Australia are home to the 20 worst performers.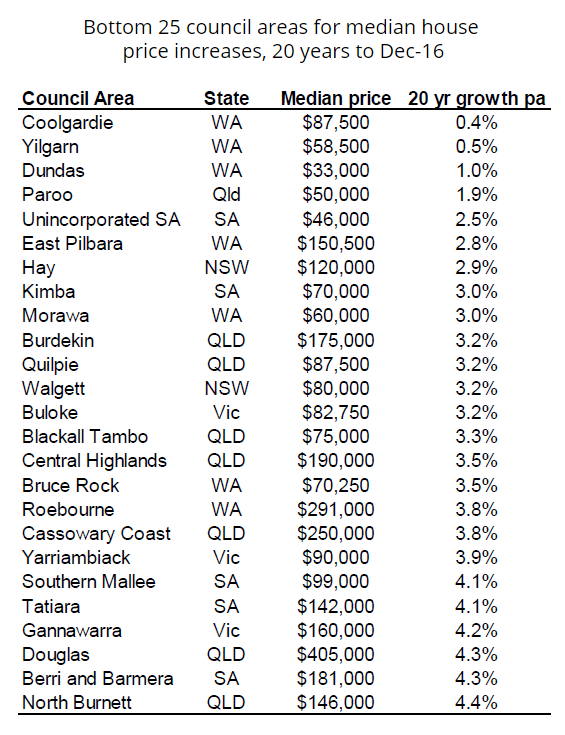 Source: CoreLogic
Embattled WA held the worst three performing areas, with Coolgardie, Yilgarn and Dundas scrapping 1 per cent or less annualised growth.
"It was surprising that Coolgardie's house prices have remained unmoved given it's next to Kargoolie which is a long-established mining area that hasn't seen a mining boom or bust," Mr Kusher said.
"Not one of these worst-performing council areas is situated in a capital city, highlighting that there is often a divide between the performance of capital city and regional housing markets."
Forward this article to a friend. Follow us on Linkedin. Join us on Facebook. Find us on Twitter for the latest updates
Join the nestegg community
We Translate Complicated Financial Jargon Into Easy-To-Understand Information For Australians
Your email address will be shared with nestegg and subject to our Privacy Policy
Join The Nest Egg community
We Translate Complicated Financial Jargon Into Easy-To-Understand Information For Australians
Your email address will be shared with nestegg and subject to our Privacy Policy