Try another search or check out these top posts
Invest
9 questions to ask when buying a CBD apartment for the first time
If you've been eyeing CBD apartments, the new year is the ideal time to start something new that could help you take one step closer to your dream – like finally buying your own home.
9 questions to ask when buying a CBD apartment for the first time
If you've been eyeing CBD apartments, the new year is the ideal time to start something new that could help you take one step closer to your dream – like finally buying your own home.
Doing something for the first time, particularly when it involves a good amount of money, can scare anyone to make the big leap. Worry not; the human brain has been wired to fear the unknown.
Here are some frequently asked questions, as curated by Colliers, to help you feel more at ease about embarking on a first home buyer adventure in a CBD market:
1. What are the most crucial factors to consider when purchasing a CBD home for the first time?
Time is gold. Make a shortlist of your CBD home preferences so you can cut down on time spent browsing through listings.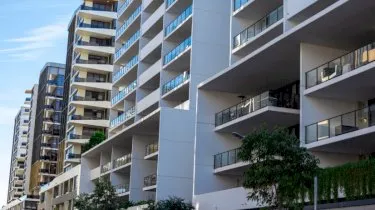 Your budget, property type, size, location, parking, and amenities are all important factors to consider. Knowing your negotiables and non-negotiables can also help fast-track your property search.
However, while your preferences are crucial, it would also be prudent to think of your purchase as an investment opportunity by considering if the property will remain desirable to potential tenants and buyers in the coming years. 
"Viewing your purchase as an investment prospect is key to ensuring you maximise your returns and set yourself up for the future," advised Colliers' experts.
2. Why is the CBD a good investment option?
Simple answer: location and accessibility. The CBD is conveniently accessible via public transportation, and stores, pubs, schools and parks are within easy reach.
Apartments located in a CBD have access to all of these advantages, which gives the property a higher value in the long run.
3. What kind of property should I consider purchasing?
Are you still dreaming of living in a house with a spacious backyard?
If spending hours tending the garden and sitting in traffic on the way to work is not your thing, perhaps you might want to consider a new concept of liveability that makes lifestyle amenities in the CBD, instead of a house with a large block of land, a priority.
Colliers' experts said CBD apartments offer both affordability and liveability with features such as "a pool, sauna, gym, common entertaining spaces, stunning views, restaurants, and concierge services".
4. What does it mean to buy anything "off the plan"?
Buying a house "off the plan" is signing a contract and paying a deposit for an apartment before it is built. You can look at the unit's blueprints, go to a showroom to help visualise the final look, and often "have a say in the design, layout and finishes in your apartment", explained experts at Colliers.
The developers will turn over your apartment once it is completed, and you can move into your newly built home.
5. What are the advantages of buying off the plan?
Purchasing a CBD apartment off the plan is fast becoming a popular option due to these advantages:
You can

 

incur savings

 

because an existing home costs more than one that hasn't been built yet. Pricing is also transparent, and you don't have to go through the process of being outbid by other buyers.
It

 

buys you time to save for repayments

 

since off the plan developments often require just a 10 per cent deposit, and a lower amount can be negotiated in some situations.
Participating as a decision-maker in your brand-new CBD apartment's design, layout, and finishing could help in your property's

 

value appreciation

 

even before it is completed.
A new CBD apartment is

 

less meticulous

 

than an older house when it comes to repairs and maintenance.
You may be

 

eligible for considerable tax savings

 

"if your purchase turns into an investment and you plan to lease your new apartment in the future".
As a first-time buyer, you will be

 

eligible for a stamp duty reduction

, which means you will most likely pay no stamp duty. Cities like Melbourne offer additional stamp duty exemptions, so if you're buying in the CBD, you can rest assured that any excess stamp duty owed will be reimbursed.

You could be able to take advantage of any

 

developer incentives

, which could range from cashback offers to furniture inclusions and more.
6. What other incentives could I be able to get?
It depends on the location. For example, in Victoria, the government offers a First Home Owner Grant that gives additional funds to assist Melbournians in purchasing their first home aside from stamp duty reduction.
To illustrate further, Colliers gave this hypothetical computation: if the property is worth less than $750,000, you can obtain a one-time $10,000 cash incentive if you buy off the plan.
7. What should I be looking for in a new apartment development?
Scale

. "Smaller developments are typically more boutique in style", Colliers advised, with more attention to detail and a focus on quality and liveability. Pricing may be steep, but there are boutique CBD apartments that provide the best in lifestyle, amenities, and design excellence while housing up to 300 people.

Design focused on liveability makes property appreciate in value over time.

 

Be on the lookout for features like high ceilings, large windows, open plan areas, soundproofing, and ventilation.
8. How long will it take before a buyer can move into an off the plan apartment?
Everything is determined by the size, type, and level of development at the time of purchase.
Your property developer should keep you informed about the construction timeline, provide updates, lock-in a settlement date, and give you an opportunity to schedule presettlement inspections.
9. Why should I seek the help of a real estate agency?
Working with an agency can help shorten your search time and save money in your property hunt, and, in effect, save you from potential headaches. Property experts know how to take advantage of government rebates and developer bargains that could translate to thousands of dollars saved for your first home purchase.
Breaking into the CBD property market as a first home buyer may seem scary. But knowing what you truly want, doing ample research, and being guided by a property professional can make the CBD property hunting adventure less daunting.
Forward this article to a friend. Follow us on Linkedin. Join us on Facebook. Find us on X for the latest updates