Try another search or check out these top posts
While many commentators have predicted that a 1.5 per cent interest rate is the bottom of the cycle, it's much more likely it will plunge even further next year.
Last week, Australia got a long overdue official wake-up call, with the nation's GDP declining by 0.5 per cent in the September quarter, the worst fall since the GFC hit several years ago and way below the expectations of already pessimistic analysts.
While the number will almost certainly bounce back in the next quarter, and we are in little danger of falling into an 'official recession' any time soon, the shocking headline figure should leave investors in no doubt as to just how soft the Australian economy is right now.
Of the major contributors to GDP – government and household consumption, private and public investment, and net exports – only household consumption was a positive contributor for this quarter.
What is truly astonishing in light of the weakness we are seeing across the economy now is how 'hawkish' the market is regarding interest rates, with many commentators still clinging to the belief that the RBA is done cutting and that the current cash rate of 1.50 per cent represents the low for the cycle.
This belief by many economic commentators that the RBA is done cutting can also be seen in the implied yield curve on the ASX cash futures market, which has an implied yield of just 1.425 per cent in September next year, within 10 basis points of where the official cash rate currently sits.
The complacency regarding the economy, and the implications for monetary policy, reminds us of an October 2014 Bloomberg survey which found that 23 economists out of 23 surveyed forecast that 2.50 per cent, which was the cash rate at the time, was going to be low of the cycle.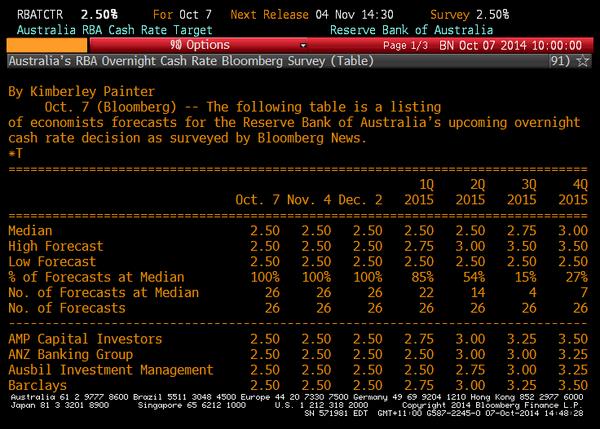 Source: Bloomberg Economist Forecast Survey October 7, 2014
Rates have, of course, been cut a further four times since that survey was conducted, and in our opinion, they have a lot lower to go. Despite its fear of stoking a property bubble on the east coast, the RBA will end up being forced to cut, continuing a trend that began five years ago, right around the time our terms of trade peaked.
After all, the Australian consumer is extremely leveraged, with record private debt levels. They also have little in the way of free cash flow, with the household savings rate, which includes compulsory superannuation, sitting closer to just 8 per cent now, down from close to 10 per cent in 2013. Consumers are also being faced with higher levels of underemployment and record low wage growth.
Little wonder that the June ME Bank Household Financial Comfort Index was at its third-lowest level ever, despite record low borrowing costs, or that the number of families worried about being able to manage debt over the next six to 12 months has doubled in the past few years.
Australian businesses are also reluctant to invest, with further unwinds in mining capital investment to come, while the economy will also have to reckon with the pending closure of the car industry.
Finally, we have also likely the seen the peak for home building construction, which had been a major boost to the economy and to employment for the last few years, especially on the east coast.
Furthermore, we expect the freakish rise in iron ore and coal prices that have taken place in 2016 to soon run out of steam. Those price rises in our key commodity exports delivered a boost to nominal GDP this year, but one would need to be incredibly optimistic to expect the gains to continue, with our terms of trade, while well below the peak levels reached in 2011, still incredibly high by historical standards (see chart below).
This, in turn, will have negative implications for a federal budget already creaking under the strain of lower than expected tax receipts, with the AAA rating potentially under threat in 2017.
While we can make far too much out of any one headline GDP reading, we think what the September quarter results merely revealed a long growing trend of domestic economic weakness.
For evidence of this, consider the chart below, which was produced by Andrew Charlton, founder of economics consultancy, AlphaBeta. The chart shows reported GDP figures for the last three years or so in the dark line, and what AlphaBeta called "adjusted GDP growth", which strips out anomalies, including a huge public spending boost in the June quarter, to give a truer picture of what's happening in the economy.

As you can see, "adjusted GDP growth" has been declining for well over a year. Record low wages and the lack of growth in full-time employment opportunities that we are seeing now make a lot more sense if we look at the economy through this lens.
Were it not for the property construction and price boom in much of Sydney and Melbourne, we have no doubt rates would already be much lower in Australia, a forecast that makes even more sense when analysis some recent research conducted by SGS Economics and Planning.
The SGS study looked at the major cities, territories and regions in the country, and estimated an appropriate cash rate for each area.
Not surprisingly, they found that the appropriate cash rate for Sydney (3.75 per cent) was much higher than the official 1.50 per cent cash rate, with the appropriate rate for Melbourne (2.25 per cent) and the Northern Territory (3.50 per cent), also above the current setting dictated to the nation by the RBA.
The chart below highlights where the team at SGS thinks rates would be set in various parts of the country, including Adelaide, Brisbane, Tasmania and Western Australia.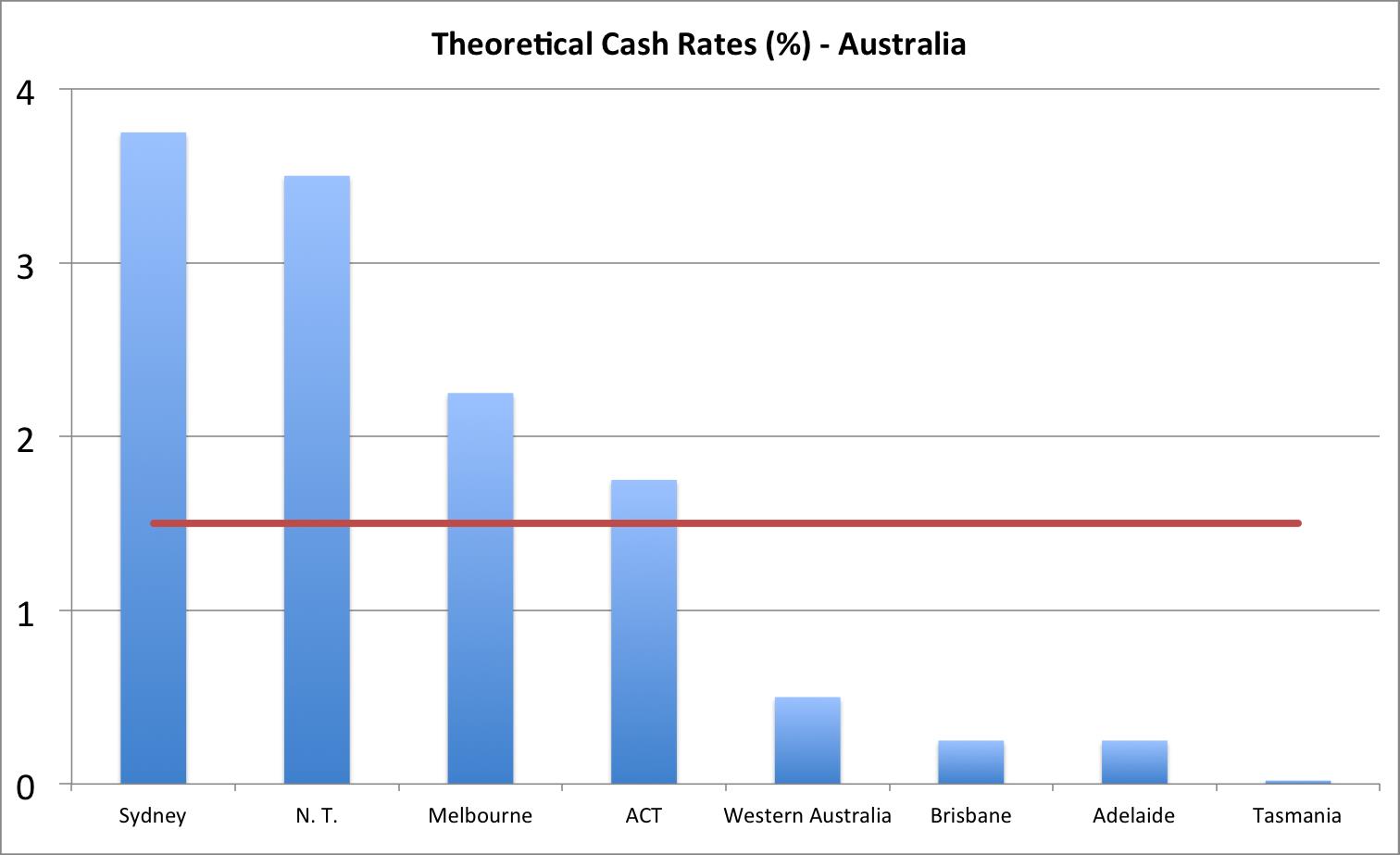 Source: Business Insider, SGS Economics and Planning
As you can see, according to this analysis, large segments of Australia already need interest rate settings of 0.50 per cent or below, levels that we've come to see as normal in parts of the developed world, but which we'd hoped to avoid in Australia.
Considering the likely peak in housing construction on the east coast, and a potential plateauing in property values in Melbourne and Sydney, we think there is a good chance that the 'appropriate' cash rate in these areas will decline to the levels already deemed necessary in the other parts of the country that are already seeing a faster pace of economic deterioration.
Certainly, we give little credence to the idea that the opposite will occur, with no reason to think that the economy in WA, SA or Queensland is set to pick up a meaningful head of steam any time soon, which might justify higher rates, especially with mortgage arrears across the country already some 25 per cent higher than they were a year ago, with these three states the most severely affected, according to a recent study by S&P.
The end result is that we expect to see a cash rate below 1 per cent in Australia by the end of 2017.
Jordan Eliseo, chief economist, ABC Bullion
Forward this article to a friend. Follow us on Linkedin. Join us on Facebook. Find us on Twitter for the latest updates
Join the nestegg community
We Translate Complicated Financial Jargon Into Easy-To-Understand Information For Australians
Your email address will be shared with nestegg and subject to our Privacy Policy
Join The Nest Egg community
We Translate Complicated Financial Jargon Into Easy-To-Understand Information For Australians
Your email address will be shared with nestegg and subject to our Privacy Policy