Try another search or check out these top posts
Borrow
CBA concludes Dollarmites as states abandon school banking
CBA's long-running financial literacy program is no more.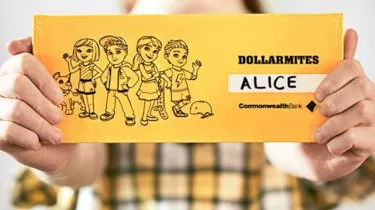 CBA concludes Dollarmites as states abandon school banking
Following a review by ASIC, the Commonwealth Bank of Australia has decided to call time on its Dollarmites program.
"Because of the ASIC review and these government decisions, we are unable to continue providing programs in schools and we have had to make a difficult decision to close our School Banking program nationally," CBA group executive for retail banking services Angus Sullivan said.
The school banking scheme, which ran in Australian primary schools for 90 years, was premised on the idea of helping younger Australians develop money management skills and healthy savings habits from an early age.

However, a review of the program by the regulator in 2020 found little evidence that initiatives like Dollarmites have a positive impact on financial literacy or savings behaviour of young Australians.
On the other hand, ASIC found plenty of evidence of sophisticated advertising and marketing tactics being used to target younger consumers.

CBA refuted ASIC's findings, but the Victorian, ACT, NSW and Queensland governments moved to ban such practices following the release of the review regardless.

Despite these headwinds, Mr Sullivan continued to defend the Dollarmites' legacy.

"Our School Banking program was established in 1931 at a time when having a bank account was not commonplace, and since then we have helped more than 15 million Australians take their first financial steps," he said.

Consumer advocacy group Choice welcomed the news.
"The reality is that Dollarmites was a very effective marketing program, signing up primary school aged-children to a life-long relationship with the Commonwealth Bank," CHOICE CEO Alan Kirkland said.
Mr Kirkland said one of the most important lessons that children need to learn about banking is the importance of shopping around for a good deal.

"We're glad to see the NSW Government join other states and territories in banning Dollarmites and replacing it with a government-run financial literacy program focused on real world budgeting examples," he said.
Speaking to nestegg, Greens NSW MP Abigail Boyd said that it was outrageous that Australia's education system had been treated as a playground for big banks.
"Our schools and children will be better off without Dollarmites, and with real financial education in its place," Ms Boyd said.
"ASIC's scathing report proved beyond a shadow of a doubt that programs like Dollarmites are neither altruistic nor educational, they are disingenuous schemes that exploit children as future sources of private banking revenue."
In February 2021, Boyd moved a motion to ban school banking in NSW. This motion was ultimately voted down, but the NSW state government has since changed its tune on the issue.

In light of that delay, Ms Boyd said that the current minister for education had taken an irresponsibly long time to decide on the ban.
"I first raised ASIC's findings with the Minister in February — it's taken the Department this long to work out that they don't know better than ASIC while the likes of CBA continue to exploit our children with their marketing," she said.
Going forward, CBA said that it plans to move its their focus towards new online education programs.

"For some time, we have been working with a range of experts to evolve our approach to financial education, and will have exciting new tools available to families in 2022 to empower parents and further support young people's financial wellbeing in a digital world," Mr Kirkland said.
Forward this article to a friend. Follow us on Linkedin. Join us on Facebook. Find us on Twitter for the latest updates
About the author