The shift by investors away from the big 4 banks and the financial services sector continued with renewed vigour. Partly due to the Hayne Royal Commission whose fallout is likely to include increased regulatory scrutiny, increased compliance costs and more responsible lending practices. This coming at an already challenging time for banks with housing prices falling, and subdued consumer spending. In recent weeks, banks share prices have bounced, provided some relief for shareholders. However, it remains to be seen whether this is the start of a sustained turnaround in share prices or a temporary relief rally.
Another area of concern is Telstra, whose share price is currently down -30.0% (before dividends) for the year. A lack of clear strategy and fierce competition within the Telecommunications sector has resulted in Telstra falling out of the Top 10 constituents of the ASX200 by index weighting.
On the positive side of the ledger, an outstanding performance by a handful of stocks including Woolworths, Wesfarmers, Macquarie, CSL, Insurance Group Australia, Woodside Petroleum as well as traditional index heavyweights BHP and Rio Tinto, helped drag the ASX200 to fresh decade highs.
A performance more remarkable considering other factors at play, including higher interest rates in the U.S. the introduction of tariffs by the U.S., political disorder in Europe, Middle East tensions, an unconvincing summit between the U.S. and North Korea, a confrontational G7 meeting, and troubles in emerging markets. Perhaps the most significant headwind for the ASX200 would be a pullback in commodity prices which would impact a selection of the better-performing stocks mentioned above.
Commodity prices have rallied strongly over the past 12 months. The price of Copper is +18%, Nickel +64%, Crude Oil +72%, Australian thermal coal +37%, Iron Ore +29%. To further reinforce this, the Baltic Dry index is up over 63%. How much further can commodity prices rally?  
If an investor with a portfolio of shares, shared similar concerns yet did not wish to sell their shares, they may choose to protect themselves against a possible price decline by using CFD's to hedge their position.
A CFD is a derivative that allows traders to both speculate and hedge against price movement without needing to own the underlying asset. The profit and loss from a trade is the difference in the price of the underlying instrument from when the contract is opened and closed. CFD's are a leveraged product, which allows the buyer or seller to gain full market exposure while only outlaying part of the total notional value of the instrument.
To illustrate how this might work, let's assume an investor held a portfolio of blue chip shares in the ASX200 including many of the Top 10 names mentioned above. The investor's long-term view is their share portfolio will continue to rise in price and pay regular dividends. In the short-term, however, they feel that any one of the factors mentioned earlier may negatively impact their portfolio and they want to hedge against this possibility.
An alternative to selling CFD's to hedge each share in a portfolio would be to sell an ASX200 Index CFD such as City Index's, Australia 200.
Let's say the investor had a $300,000 portfolio of mainly blue-chip ASX200 shares, and the ASX200 is trading at 6000. A one point move in a CFD contract on the Australia 200 is equal to AU$1.00. By selling 50 Australia 200 CFD's it provides a hedge equivalent to $300,000 ($300,000/6000) which is the same as the portfolio value.
If the Australia 200 Index falls 10% or 600 points, then the CFD hedge will make $30,000 (600 points * 50 contracts *$1.00 point value) potentially offsetting some or all of the falls in the portfolio's value. Of course, if the investors' concerns proved to be incorrect and the shares rose, the profit on the physical holding of the shares would be offset by a loss on the CFD hedge, thus cancelling out the paper gain.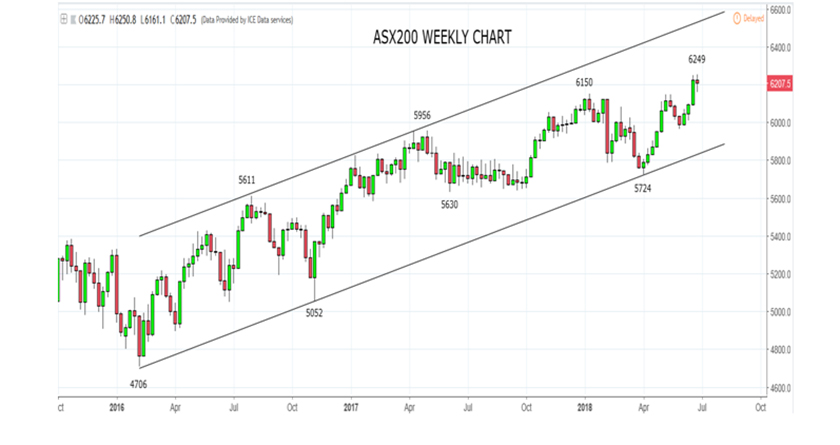 Source Tradingview. The figures stated are as of the 28th of June 2018. Past performance is not a reliable indicator of future performance. This report does not contain and is not to be taken as containing any financial product advice or financial product recommendation
Find out more about CFD trading www.cityindex.com.au
DISCLAIMER
GAIN Capital Australia Pty Ltd, 100 Harris street, Pyrmont, NSW 2009 (ACN 141 774 727, AFSL 345646) is the CFD issuer and our products are traded off exchange.
Any analysis, opinion, commentary or research-based material on our website is for information and educational purposes only and is not, in any circumstances, intended to be an offer, recommendation or solicitation to buy or sell. You should always seek independent advice as to your suitability to speculate in any related markets and your ability to assume the associated risks, if you are at all unsure. No representation or warranty is made, express or implied, that the materials on our website are complete or accurate. We are not under any obligation to update any such material.
As such, we (and/or our associated companies) will not be responsible or liable for any loss or damage incurred by you or any third party arising out of, or in connection with, any use of the information on our website (other than with regards to any duty or liability that we are unable to limit or exclude by law or under the applicable regulatory system) and any such liability is hereby expressly disclaimed.
While every care has been taken in preparing this material, we do not provide any representation or warranty (express or implied) with respect to its completeness or accuracy. This is not an invitation or an offer to invest nor is it a recommendation to buy or sell investments.
GAIN Capital recommends you to seek independent financial and legal advice before making any financial investment decision. Trading CFDs and FX on margin carries a higher level of risk, and may not be suitable for all investors. The possibility exists that you could lose more than your initial investment further CFD investors do not own or have any rights to the underlying assets.
It is important you consider our Financial Services Guide and Product Disclosure Statement (PDS) available at www.cityindex.com.au, before deciding to acquire or hold our products. As a part of our market risk management, we may take the opposite side of your trade.
---
TECH-FX TRADING PTY LTD (ACN 617797645) is an Authorised Representative (001255203) of JB Alpha Ltd (ABN 76 131 376 415) which holds an Australian Financial Services Licence (AFSL no. 327075)
Trading foreign exchange, futures and CFDs on margin carries a high level of risk and may not be suitable for all investors. The high degree of leverage can work against you as well as for you. Before deciding to invest in foreign exchange, futures or CFDs you should carefully consider your investment objectives, level of experience, and risk appetite. The possibility exists that you could sustain a loss in excess of your deposited funds and therefore you should not invest money that you cannot afford to lose. You should be aware of all the risks associated with foreign exchange, futures and CFD trading, and seek advice from an independent financial advisor if you have any doubts.
Any advice provided is general advice only. It is important to note that:
The advice has been prepared without taking into account the client's objectives, financial situation or needs.
The client should therefore consider the appropriateness of the advice, in light of their own objectives, financial situation or needs, before following the advice.
If the advice relates to the acquisition or possible acquisition of a particular financial product, the client should obtain a copy of, and  consider, the PDS for that product before making any decision.