Overall, February 2018 reporting season was solid, post which analysts' revisions of earnings were minimal. Solid top line growth expectations were slightly held back with increasing cost pressure. In this report, we provide a quick summary of the key themes that emerged from the reporting season and notable movements in key stocks. The ASX 200 is currently trading on forward blended PE-multiple of 15.5x, 13 per cent premium to its 10-yr average but within its recent trading range.
·       Key theme #1 – Capital management
Companies with solid balance sheets and improving trading outlook, continue to push the capital management trigger via share buybacks. We saw companies announce new or additional share buyback during the reporting season: Dexus, Lend Lease, Qantas, Mirvac, BlueScope and South32. 
·       Key theme #2 – Cost inflation
A common recurring theme was that the impacts of cost inflation were beginning to appear. This invariably impacts margins or holds back operating leverage in the case of companies seeing solid top line growth. We saw this theme feature in the results of major miners, who all spoke about cost pressures including some seeing wage inflation potentially return. We are seeing some companies experience cost inflation due to regulatory issues (Commonwealth Bank of Australia), while other industrial companies were seeing the impacts of tight labour market.
Brambles noted significant cost pressures in its offshore operations. In transport, increased economic activity alongside labour shortages, increasing fuel prices and regulatory changes reducing market capacity have contributed to market inflation of +5 per cent in the US and +4 per cent in Europe, increasing transport costs by US$12 million in 1H18. Similarly, lumber inflation driven by improved economic activity and a resurgent housing market have increased unit capital cost of pallets, increasing capex by US$6 million in 1H18.
·       Key theme #3 – Business investment
With the cost-out story largely played out (in fact, cost inflation is returning), companies need to target sustained top line growth initiatives. In doing so, companies have called out higher capital expenditure. This is particularly evident in the smaller cap sector, with discussions more focused around continued investment to drive growth.  
·       Notable outperformers
(1) The a2 Milk Co (A2M) – Feb-18 price movement +47.5 per cent
A2M reported an extremely strong result with ongoing momentum in the infant formula segment and new growth opportunities via the Fonterra partnership rendering A2M an obviously high-quality company.
(2) Nine Entertainment (NEC) – Feb-18 price movement +35.7 per cent
NEC 1H18 results came in well ahead of estimates and market expectations, with revenue up +9.6 per cent and operating earnings (EBITDA) up +51.4 per cent on previous corresponding period (PCP).
(3) NextDC Ltd (NXT) – Feb-18 price movement +17.0 per cent
Reported solid 1H18 results, which saw revenue up +32 per cent and the benefits of operating leverage resulting in operating earnings (EBITDA) increasing by +42 per cent.
(4) IDP Education Ltd (IEL) – Feb-18 price movement +19.9 per cent
IEL announced strong 1H18 results ahead of expectations, reflecting high quality performance across all segments of the business.
·       Notable underperformers
(1) South32 Ltd (S32) – Feb-18 price movement -13.1 per cent
S32 reported mixed results for 1H18, with EPS down -10 per cent to US10.5cps, missing consensus estimates by -7.1 per cent. Cost inflation is beginning to show across all miners.
(2) WiseTech Global (WTC) – Feb-18 price movement -31.2 per cent
The stock was sold off post 1H18 results after management's reiteration of full-year guidance was interpreted as a downgrade given this included acquisitions made since the Nov-17 guidance.
(3) Fletcher Building (FBU) – Feb-18 price movement -15.0 per cent
The stock has significantly de-rated due to the losses in its B+I businesses and the repeated announcements of provisions for this business. The new CEO noted the provisions have exceeded their expectations. Disappointing given macro conditions in key markets remain supportive.
(4) G8 Education (GEM) – Feb-18 price movement -16.7 per cent
GEM's 2017 full-year results missed market estimates, with occupancy levels remaining under pressure, falling to 76.7 per cent (from 79.9 per cent PCP).
ASX200 EPS consensus forecasts
Since our last update in January, consensus estimates (Bloomberg) have seen minimal changes for the broader the ASX 200 – i.e. still expecting slightly above mid-single digit EPS growth. 
Figure 1: ASX 200 EPS forecasts

Source: Bloomberg, BTIG
Figure 2: ASX200 – 12-mth blended forwarded PE-multiple versus LT average (10-yrs)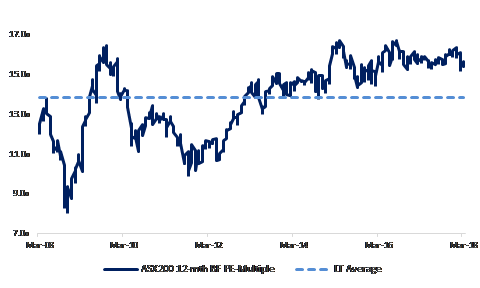 Source: Bloomberg, BTIG
OzFinancial is a financial services firm specialising in managed portfolios, superannuation and SMSF education. You can read more OzFinancial insights into the February 2018 reporting season here.