Sydney analyst and market commentator David Hunt says professional investors will profit from the Santa rally, after a tumultuous year for markets.
"The market is less liquid but more predictable because the public goes on holiday. However, the professionals stay in the market so the predictability means good news travels fast and sends stocks higher," Mr Hunt said.
"This is the best time of the year for investors to make their money back."
While the Santa rally typically runs from early December to the final week of the year's trading, this year's came early due to a Donald Trump's US election victory in November, according to Mr Hunt.
Since then, the ASX 200 Index has risen 8.4 per cent, the strongest rally in six months.
"Every December, I have issued strong 'buy', and history testing back to 1983 has shown results in about 88 per cent profitable trades," Mr Hunt said.
"Historically, such calls result in clients having potentially 22 winners out of 25 trades."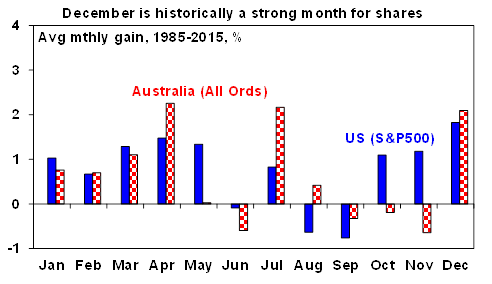 Source: Bloomberg, AMP Capital
Pointing to BHP Billiton's 2016 stock price turnaround from $14 to $26 this year, Mr Hunt said "everyone will love resources soon."
Looking to 2017, Mr Hunt forecast that share prices will continue to rise until the middle of the year backed by rising interest rates, tightening credit and investor uncertainty fuelling a departure from property markets.
The embattled bond market, he advised, should be sold into during next year's rallies.