Speaking to investors at a webinar yesterday, State Street Global Advisers (SSGA) flagged a distinctive mid-year shift in equity markets.
"Up until June 30, the defensive sectors and the bond proxy sectors, like utilities, and real estate were outperforming. However, since June 30, we've seen a rotation into more cyclical areas of the market, the materials sector, energy and financials, for example," SSGA head of ETF strategy Matthew Arnold said.
"It's been a pretty dramatic rotation and I'm sure that caught investors flatfooted."
As the chart below demonstrates, the last six months of 2016 saw almost a complete reversal in equity markets, with health care, real estate and utilities suffering the biggest turnarounds.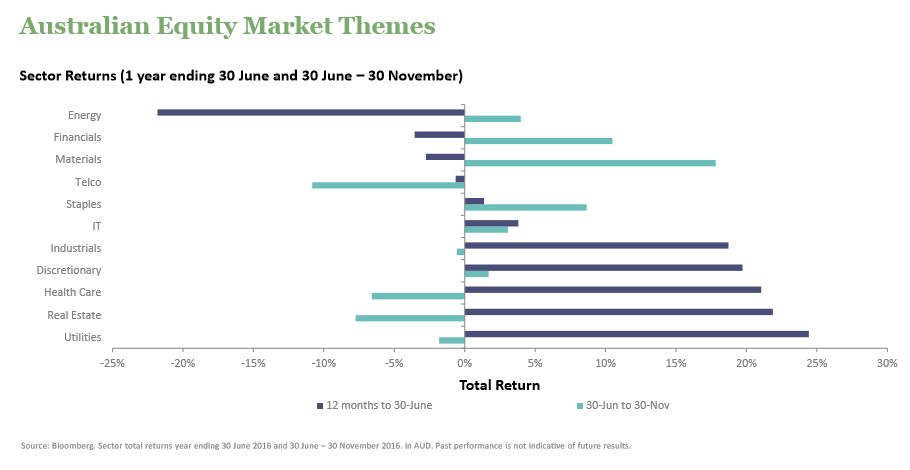 "We started to see the shift around July 8 or 9 where we had a low on the 10-year US Treasury and since that time, rates have been backing up globally and there's been a hand-off to the more cyclical sectors and the equity market with the more defensive sectors underperforming," Mr Arnold said.
He said what accentuated these trends was Donald Trump's surprise US election victory, which buoyed the Australian commodity sector. 
"The Trump election really turbo-boosted that. One of his commitments to spend $1 trillion on infrastructure is going to be good for materials and commodities so Australian materials and commodity-related companies have rallied aggressively since [his election]," Mr Arnold said.
Looking ahead, he said the effect of president Trump's policies in 2017 would have a sizeable impact on the Australian equity market.
"This growth story or reflation story in the US will have a significant impact on Australia. If you look at the top Australian resources companies, these guys are global so what happens in the US will certainly impact them."